NPS has become the go-to metric for gauging customer loyalty and experience for thousands of businesses around the world. The system allows you to procure customer opinions in a matter of seconds. So, it is only right, if youve come here looking for the
best NPS tools. But before getting into it right away, lets see how to choose an NPS software.
How to Choose the Right NPS tool?
Well definitely, efficiency is one of the biggest aspects while choosing an NPS tool but there are 3 other factors too.
Distribution Channel
The aim is to get maximum survey response rates and you should be able to reach customers where they are. So, do find out in which channel most of your audience would be and check if your preferred NPS tool offers it. The best option would be to choose a tool that offers multiple distribution channels like email, SMS, Whatsapp etc.
Survey Volume
Again, have a clear idea as to how many surveys you will want to send within a time period, and then choose your NPS software. Many platforms offer a limited number of surveys as per the pricing tier.
Analytics
Make sure the NPS tool offers powerful analytical features. It should be able to help analyze customer sentiments, filter them according to various demographics and uncover important insights to close the loop effectively.
10 Best NPS Tools of 2023
After thorough research, our team found the 10 best NPS tools that are going to rule the market of 2023. They have been evaluated based on efficiency, features, pricing, support, user-friendliness, and of course customer reviews. Here take a look:
Affiniv
Retently
Delighted
Surveysparrow
InMoment
AskNicely
Nicereply
Promoter.io
Survicate
HotJar
1. Affiniv
Affiniv is an out-and-out VOC platform that helps SaaS B2B businesses improve customer experience by collecting and analyzing their feedback in the best possible way. The platform has one of the best NPS tools that help you engage with customers to capture maximum feedback, analyze it, identify points that drive loyalty, take appropriate actions and close the loop effectively. The platform assists you throughout the whole NPS program to make it truly actionable. Moreover, being a no-code NPS software, Affiniv can be used by any SaaS business without prior technical knowledge.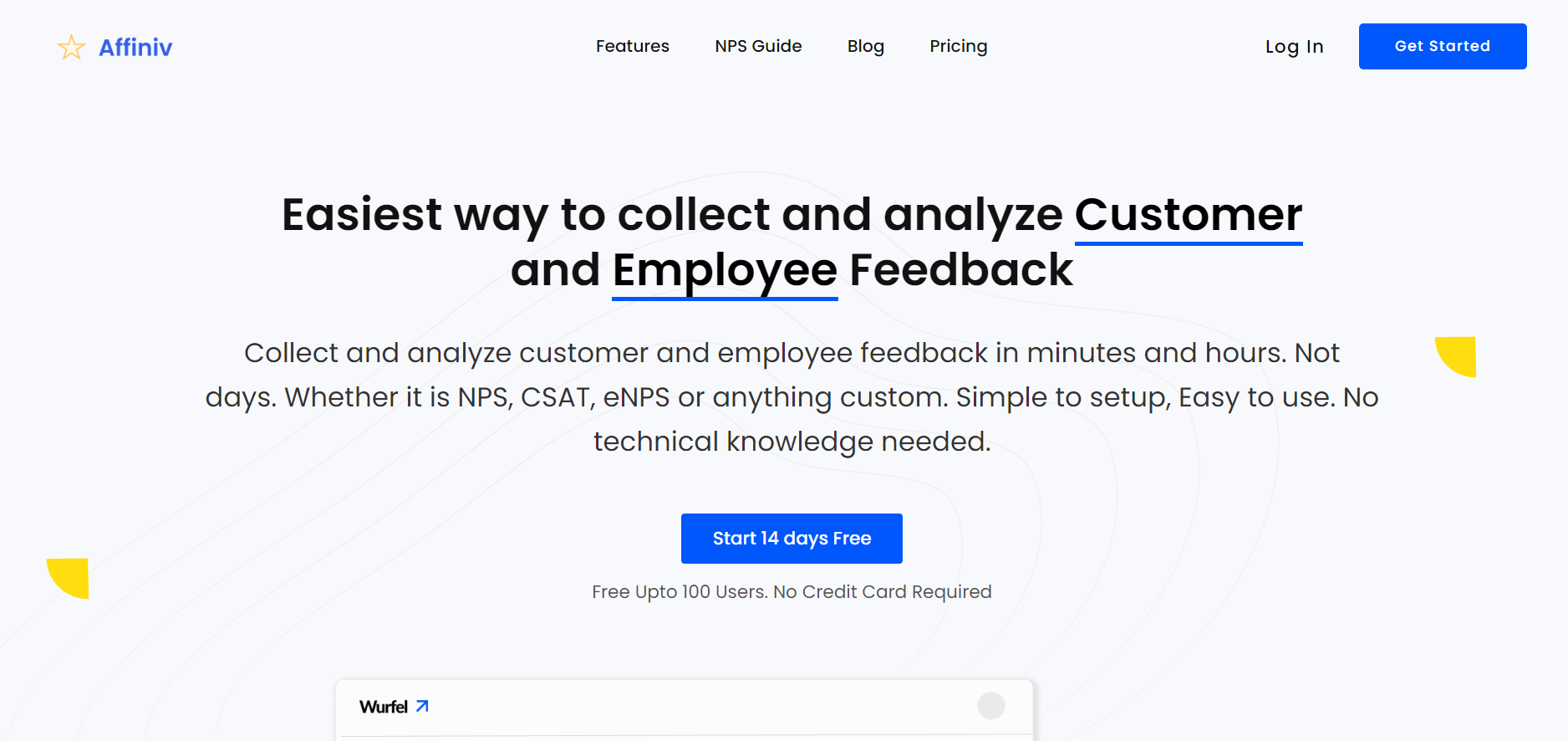 Best Features
Real-time Analytical Dashboard: Perform granular analysis of data in real time. Compare and contrast data, filter them, and categorize them based on various demographics to find crucial insights.
Survey Distribution: Share your NPS surveys through multiple channels like Email, SMS, Whatsapp, Survey Link, API, or website embed to reach where your target audience is.
Auto-reminders & Follow-ups: Send auto-reminders to your customer through any channel after your survey is shared. Leverage auto-follow-ups with your respondents (especially detractors) to find the reason behind their scores.
One-click Rating: Let your loyal customers rate you on popular platforms like Google and Facebook with a single click and spread the word about your awesome product!
Pros:
Easy to set up
Modern and user-friendly UI
Reliable support
Focuses on analytics and closing the loop
Cons:
Built to mostly cater to e-commerce and SaaS B2B businesses
Constant updates have to be expected since it is a young platform
Pricing [Annual]
Basic plan is priced at $99 per month for surveying up to 2000 customers.
Business plan starts at $249 per month for surveying up to 5000 customers.
Survey an additional 1000 customers for $50.
Free Version Available: 100 customers/month
2. Retently
Retently is an emerging NPS tool that has become quite popular in recent years. The tool helps you collect feedback from customers at any point of the journey, prevent churn through automated follow-ups and internal notifications to the associated team and analyze crucial trends related to promoters and detractors to predict future behavior.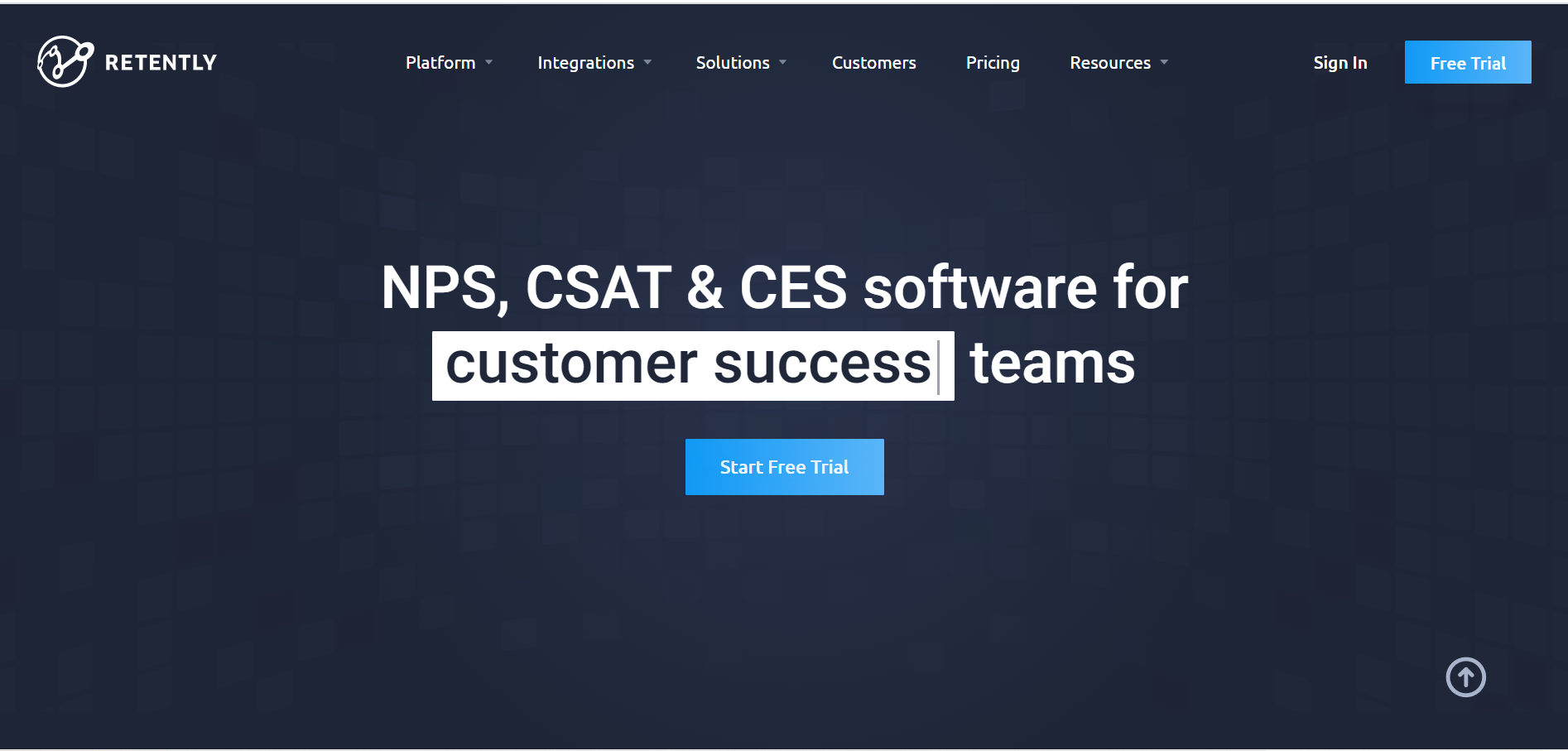 Best Features
Survey Template Editor: Utilize the advanced survey editor of Retently to give your survey a whole new look and feel. From changing the background color to adding custom links and logos, the editor gives a variety of options to customize your survey.
Autoresponders: Preset emails can be sent automatically to detractors, promoters or to customers who havent left any feedback.
Multi-language surveys: Retently gives you the provision to customize your NPS surveys and translate them into the language of you choice.
Pros
Ease of use
Customer service
Cons
Feedback tags are glitchy
Not very easy to customize
Free Version: Not Available
Pricing [Annual]
The basic plan is priced at $25 per month
Pro Plan starts at $224 per month
Enterprise plan charges $599 per month
3. Delighted
Delighteds NPS software claims to collect, analyze and act on feedback in just 3 simple steps without any development or design assistance. This tool is powered by AI and helps you manage your NPS program seamlessly. Customize surveys, ask follow-up questions based on the given score, deliver it on time, analyze feedback and uncover actionable insights with Delighteds NPS tool.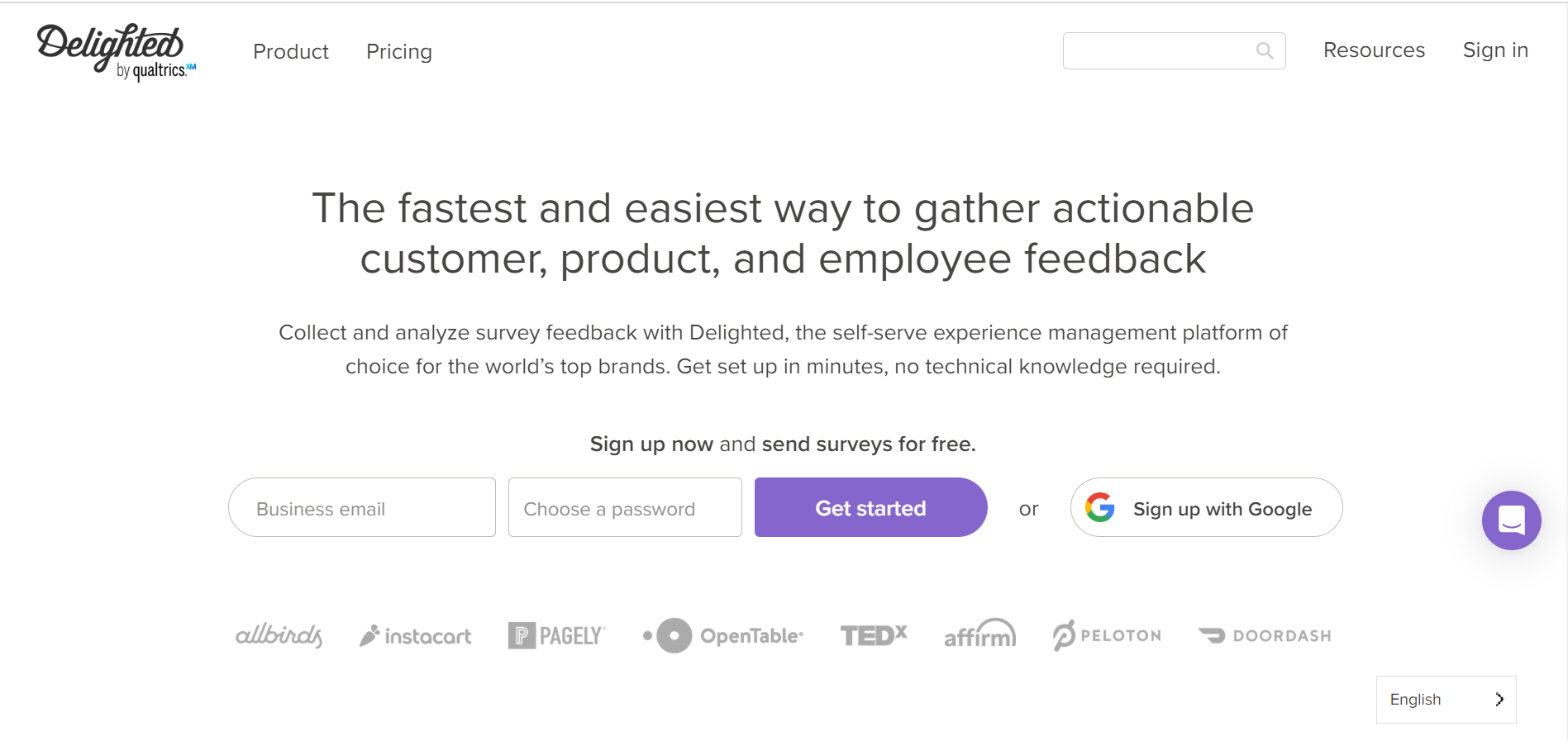 Best Features
Survey Customization: Customize your survey to match your brand guidelines. Add logos, change colors, customize the NPS questions and make it look exactly the way you want.
Smart Trends: This AI-powered feature will help you identify the right trends by closely examining customer responses and finding the set of relevant keywords that can actually trend.
Benchmark Report: Know where you stand in your industry. Compare your NPS score with the standard industry benchmark.
Pros:
Intuitive UI
Seamless integrations with over 750 tools.
Cons:
Unlike the claims, you might need coding assistance for customization especially when it comes to web surveys.
Reporting features are basic
Free Version Available: 1000 surveys per month
Pricing [ Annual]
Premium Plan starts at $224 per month.
Premium Plus Plan charges $449 per month.
Contact the team for the Enterprise Plan.
4. Surveysparrow
Surveysparrow is an end-to-end omnichannel experience management platform that is best known for its NPS software and employee experience management. The free NPS tool is designed to enrich customer loyalty by helping you listen to customer feedback, analyze crucial touchpoints and take action. Similar to NPS tools like Affiniv, Surveysparrow too focuses on helping their clients close the feedback loop.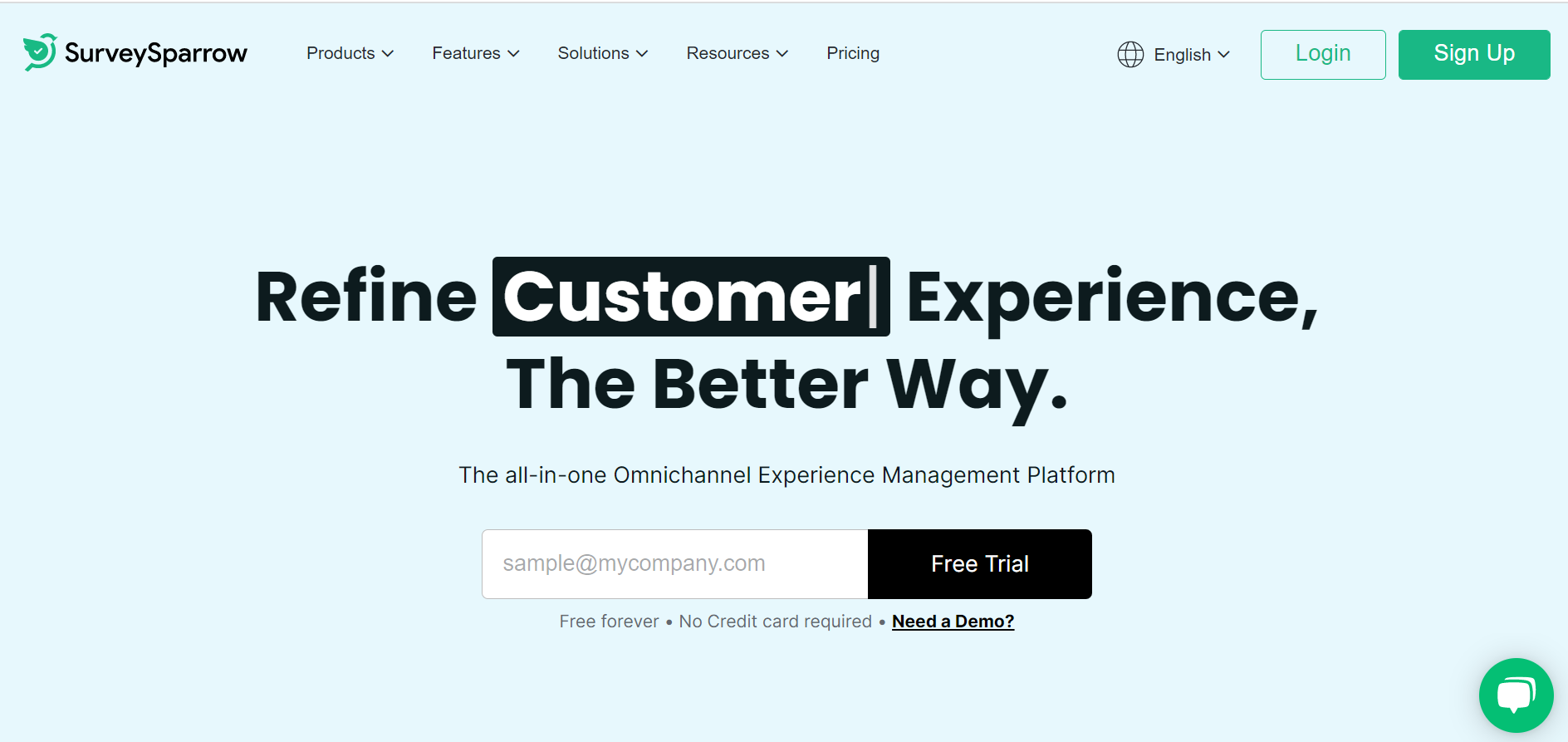 Best Features
Real-time dynamic dashboard: Keep track of your net promoter scores in real time. View responses from each participant, filter them and gather insights with ease.
NPS Survey Automation: Automate NPS surveys as per your requirements. You can set the time, and frequency, upload the list of contacts and even configure it to recur annually, quarterly or half-yearly.
Workflows and Alerts: Alert your team the moment a response is received so that they can work on creating actionable workflows to address the concern of every customer.
Pros:
Efficient reporting
Seamless Integrations
Responsive support team
Cons:
Not easy to use
Steep learning curve
Will require additional coding
Drag and drop feature has glitches
Free Version Available: 100 responses/month
Pricing [Annual]:
The basic plan starts at $19/month
The business plan starts at $99/month.
Contact Surveysparrow for custom plans
5. Inmoment
InMoment is a popular Experience Improvement platform that focuses on both customer and employee experience. InMoment also offers a great NPS tool to help clients improve their net promoter scores by procuring relevant feedback and analyzing them thoroughly. The tool is built to help you throughout your NPS journey and close the feedback loop effectively.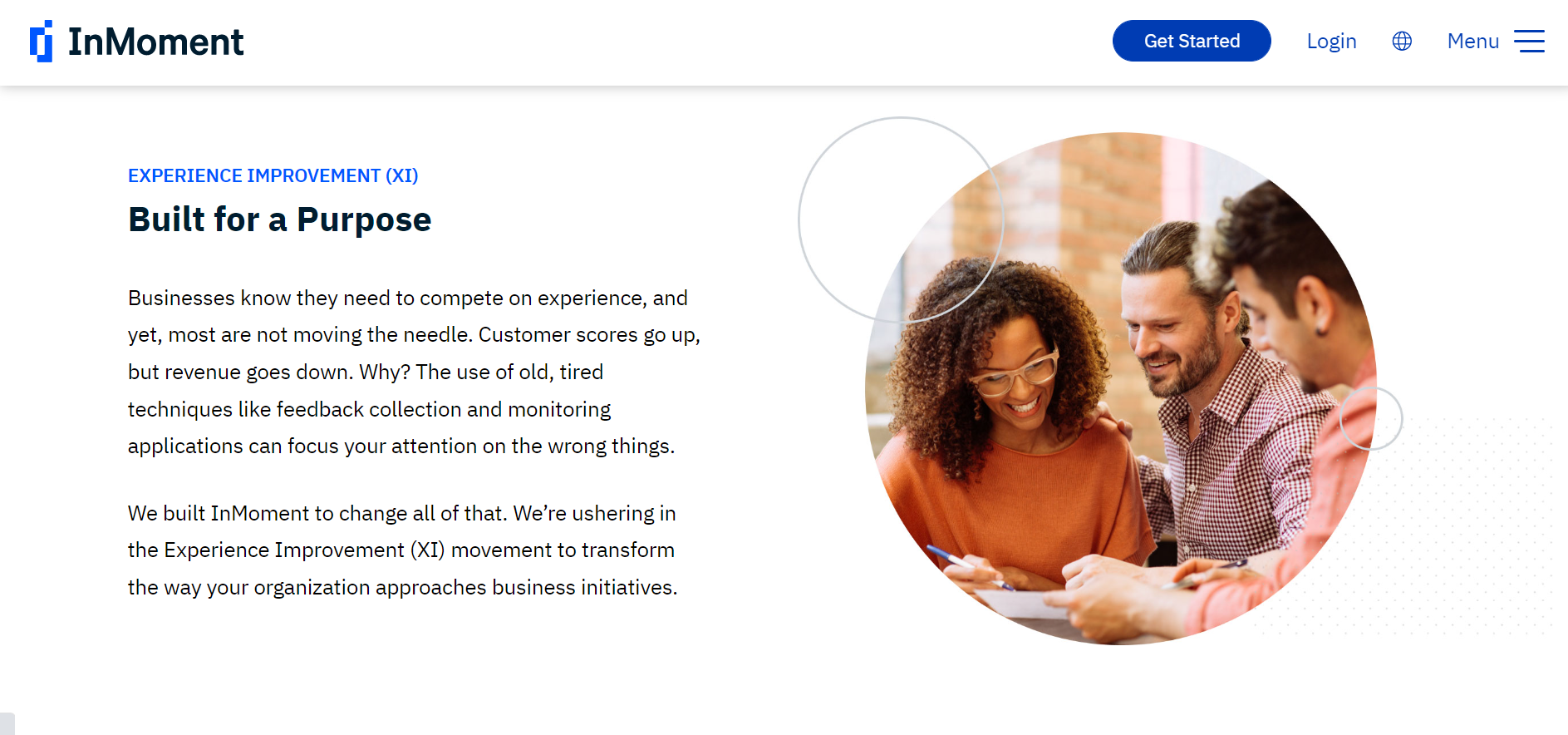 Best Features
Instant Analytics: Find your average NPS, get a count of responses, receive continuous updates on customer sentiments and gather insightful conclusions from Inmoments analytics.
Custom Filters: Create customized filters using the NPS tool to cater to your business goals. You can slice and dice the NPS data based on aspects like geography, feedback on product changes, purchase size, etc. to obtain useful insights.
Feedback Themes: Create any number of custom tags to identify customer sentiments and identify who needs immediate follow-up and what improvements are to be made in your product/service.
Pros:
Intuitive surveys
Seamless integrations
Simple and responsive filters
Cons:
Occasional glitches show up in surveys
The tool is slow
Free Version: Not Available
Pricing: Contact InMoment to get a Quote
6. AskNicely
AskNicely is a renowned customer experience management platform that helps you improve experience with the help of well-built NPS surveys. Curate customized NPS surveys to find what exactly your customer thinks about you and gauge loyalty. Moreover, connect feedback with your team and business systems to integrate learnings and work on it collectively to boost customer experience with AskNicelys NPS tool.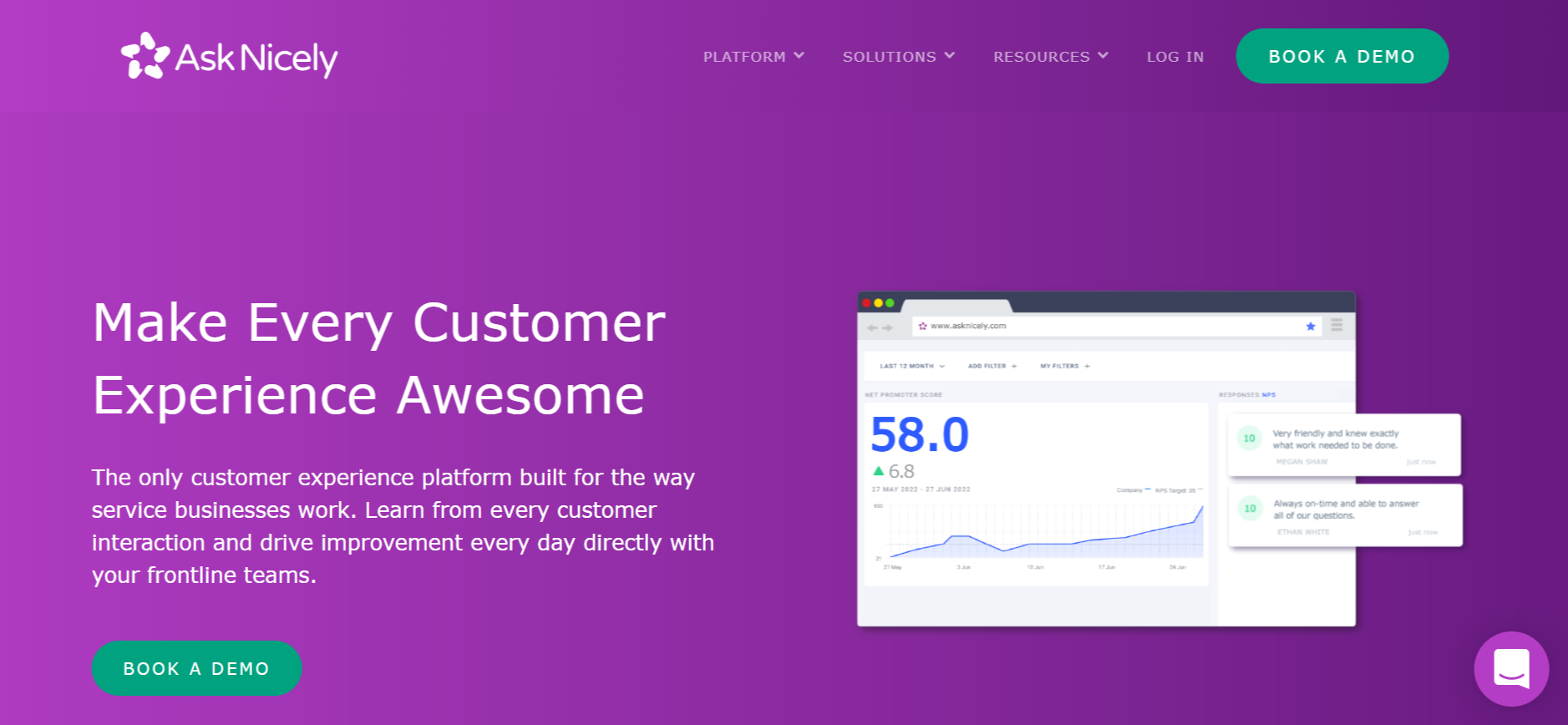 Best Features
Multiple Survey Channels: Distribute your surveys through multiple sources like email, SMS, and web to reach customers at their preferred platforms.
Feedback Coordination with Team: Share customer feedback where it can be viewed seamlessly by the associated team in real time. Publish the feedback on the right channels like Powerpoint, Slack Plus, Salesforce, etc.
Pros:
Simple to use
Seamless and efficient Integrations
Excellent customer support
Cons:
Steep learning curve
The NPS dashboard has a few minor bugs
Free Version: Not available
Pricing:
Contact the Asknicely team for a quote
7. Nicereply
Nicereply is yet another customer experience platform that offers an impressive NPS tool. Nicereply lets you create one-click NPS surveys that can be set-up in a matter of seconds. The platform also serves an eminent list of customers like Microsoft, Lenovo, Hubspot and Buffer.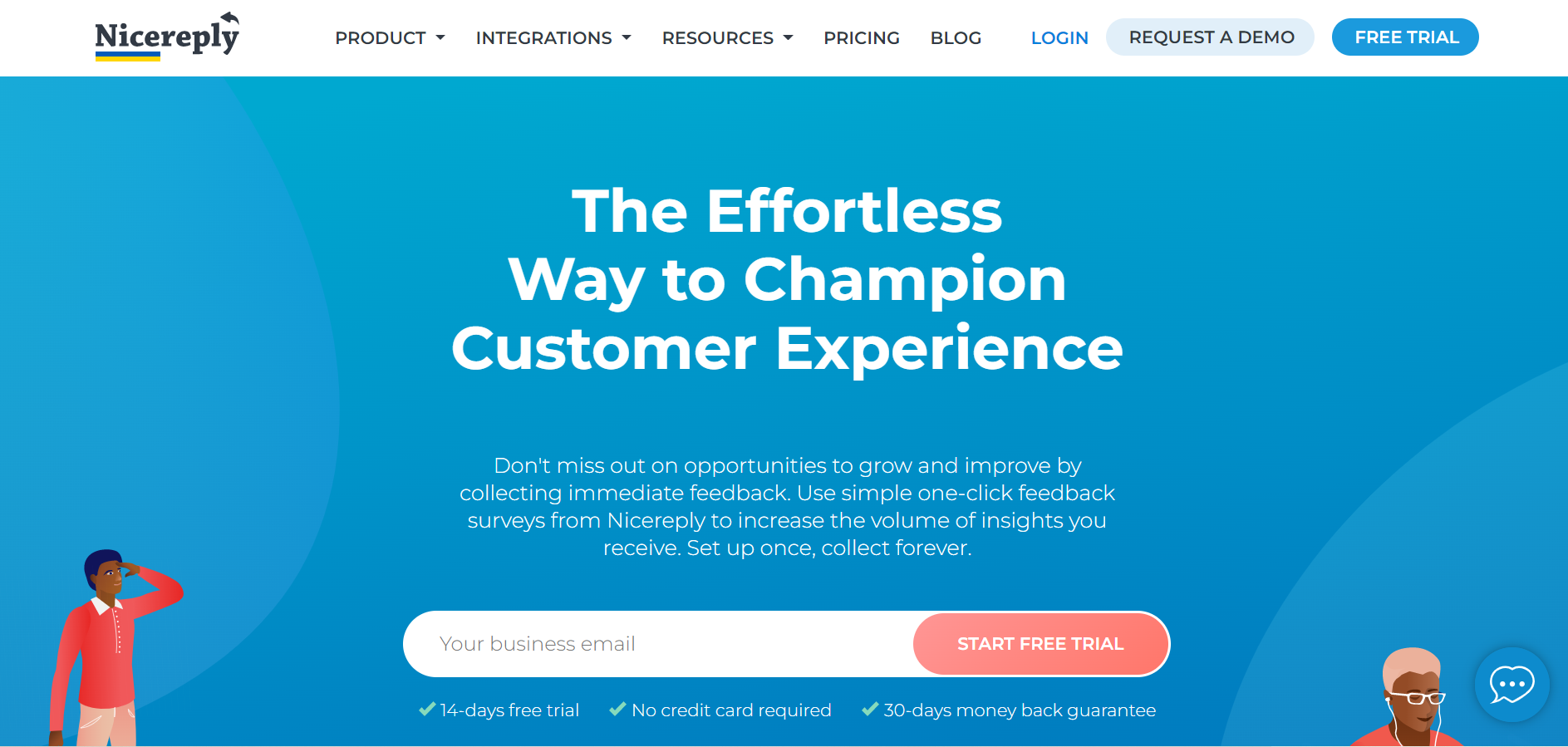 Best Features
Email Template Surveys: Integrate NPS surveys into your emails or add it as an in-signature survey so that it shows up at the bottom of every email you send.
Post - resolution Surveys: Survey customers right after a ticket, conversation or deal is closed. You can choose the interval at which it can be set up.
Pros
Very easy to use
Great quality of support
Cons
Data exporting is a difficult task.
Visualization needs improvement.
Free Version: Not Available
Pricing [Annual]:
The basic plan starts at $39 per month.
Grow plan starts at $159 per month.
The business plan starts at $ 239 per month
8. Promoter.io
Promoter.io is a child company of Medallia that is built to be a comprehensive customer engagement platform to help drive growth and retain customers. The platform focuses on incorporating constant actionable feedback into your business with the assistance of their NPS tool. However, Promoter.io is designed to cater more to eCommerce businesses. If you run an eCommerce business, then Promoter.io could be the right fit.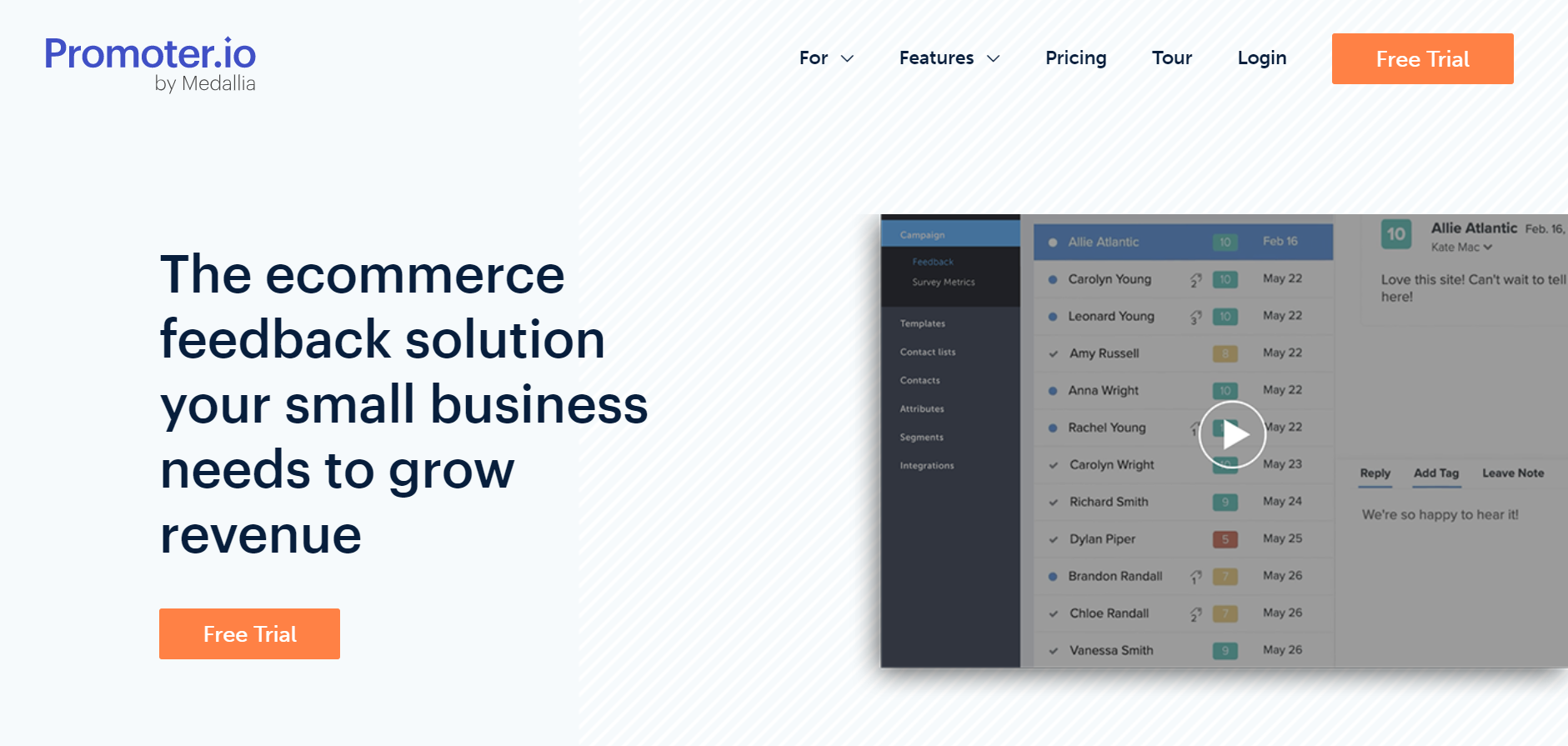 Best Features
Multi-channel Reach: Survey customers via the channels that they prefer the most. You can share NPS surveys through multiple options like email, embedded link,s and SMS.
Recurring Surveys: Set up the frequency at which a survey should be shared with customers. You can send surveys immediately after a purchase or follow up after a particular time period. Its up to you!
Engagement Tracking: Analyze survey statistics and understand the extent of customer engagement to upgrade your processes.
Pros:
Clean UI
Fast and reliable support
Cons:
Not very easy to set up
Might be an expensive option for growth-stage companies and SMEs
Free Version Available: 250 Surveys/month
Pricing [Monthly]:
The basic plan starts at $100 per month.
The advanced plan starts at $150 per month.
9. Survicate
Survicate is a survey software that aims to help you gather customer feedback in effective ways. The platform claims to offer a free NPS tool that assists in setting up an NPS survey without any coding. With this NPS tool, you will be able to record every single response even if the survey is not fully attempted.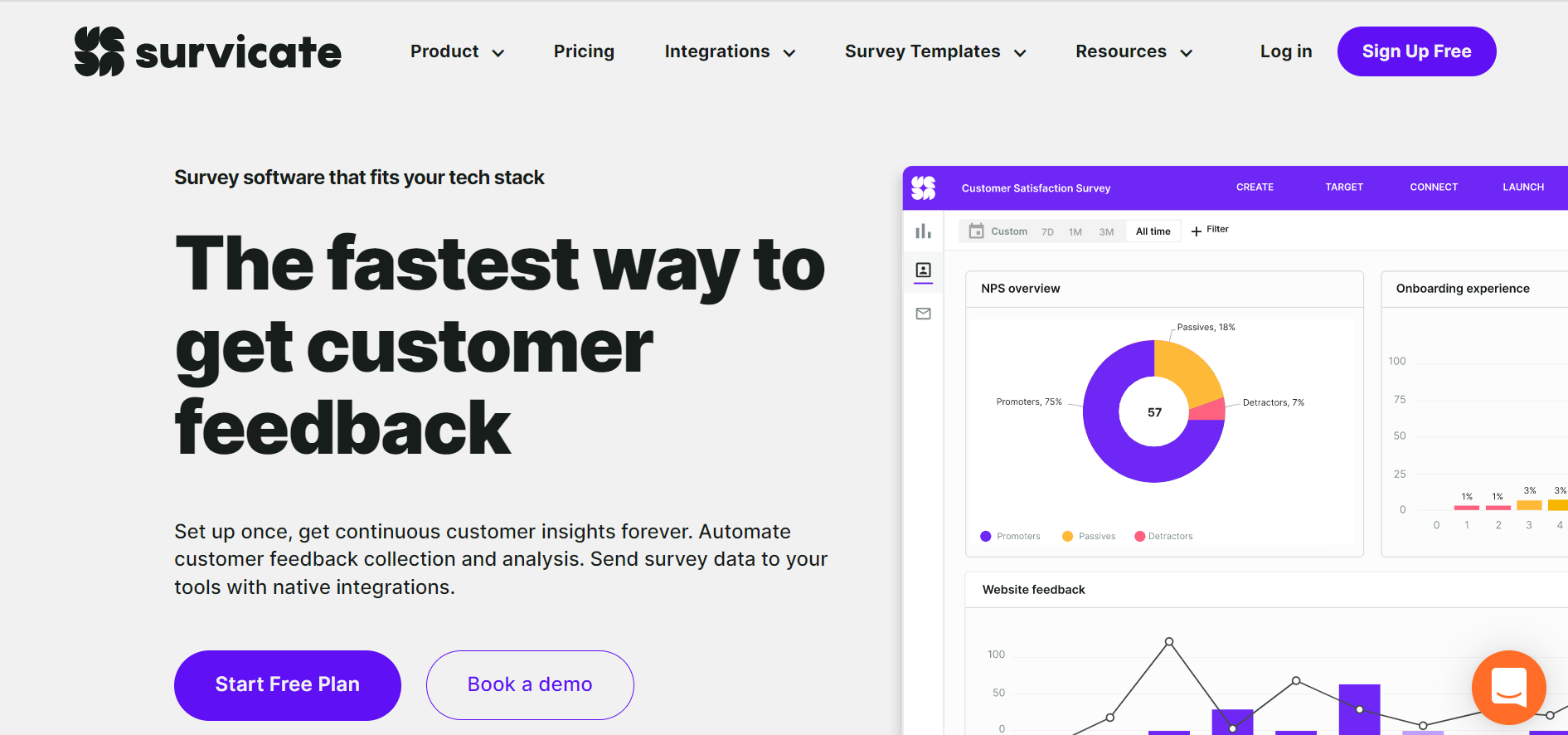 Best Features
Multi-channel distribution: Distribute your surveys through various channels like emails, in-product, websites, or mobile apps.
Built-in Analytics: Track NPS score on a real-time dashboard, monitor response rates, and filter responses using various attributes using analytics.
One-click Integrations: Integrate with different apps with a single click to combine workflows easily without any need for coding.
Pros:
Ease of use
Seamless Integrations
Cons:
Expensive
Could do with more customizable provisions
Free Version Available: Unlimited responses per survey for up to 7 days
Pricing:
Feedback Starter Plan charges $89 per month.
Feedback Automation plan starts at $179 per month.
Survicate also offers customized plans as well.
10. Hotjar
Essentially an analytics tool, Hotjar also provides a decent NPS software to help you understand your customers better. The visual insights and behavior analysis guides you in optimizing your tool and prioritize changes that the customers want. Having said that, the platform is not an out-and-out customer experience management platform.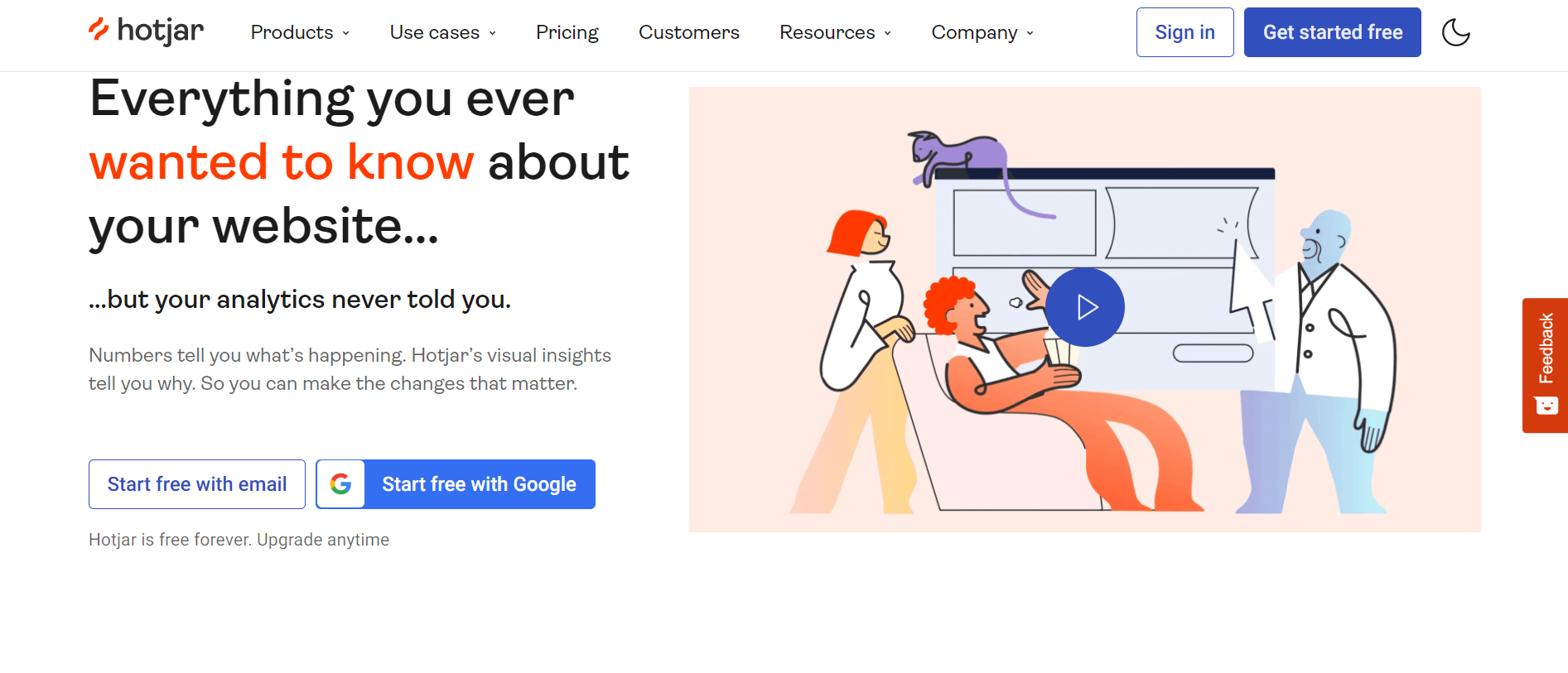 Best Features
In-depth Dashboard: Leverage the one-click dashboard to view user insights, analyze product impact, spot issues and top performing features etc. all at one place.
Trends: Analyze metrics through visualization. Observe the user behavior and discover the reason behind each trend.
Pros:
Easy Installation
Intuitive Dashboard
Cons:
Expensive business plans.
Limited to on-site and email NPS surveys.
Tracking abilities are limited.
The free version comes with too many limitations.
Free Version Available: 1,050 sessions per month.
Pricing:
The basic plan starts at $32 per month.
Business plan starts at $80 per month.
Contact Hotjar for custom plans.
Winding Up
Net promoter score is probably one of the most popular and effective systems to gauge customer loyalty. However, it all depends on the efficiency of the NPS tool you choose. Given above are some of the best NPS software that will rule the market of 2023 mainly because of their responsiveness and analytical capability. That being said, you still cant choose a random NPS tool from this list. Before choosing the NPS tool, compare its features and check if they align with your companys goals and requirements. Once thats done, you will be able to find the right NPS software that can help your business uncover the needed insights and grow exponentially.