Super Simple, Yet Powerful Survey Maker
100's of brands use our super intuitive and powerful survey maker to create surveys in minutes. Even better, you can send the survey via Email or Embed in your website with a few clicks.
No Credit Card Required. 100 Responses Free/Month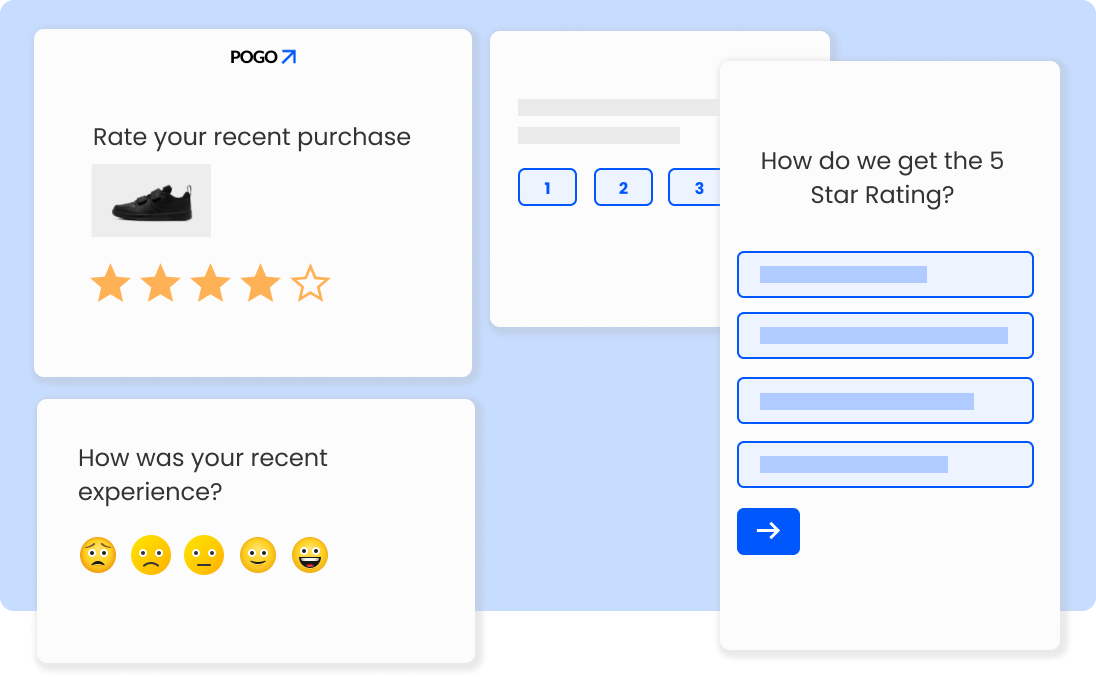 Join 500+ Companies using Affiniv as their Survey Platform

Simplest Survey Maker: Create Survey in minutes
With our Survey Builder, add any kind of Question – Choice Question, Long Answer, Short Answer, Scale, Net Promoter Score, Visual Scale (Star, Smiley), etc.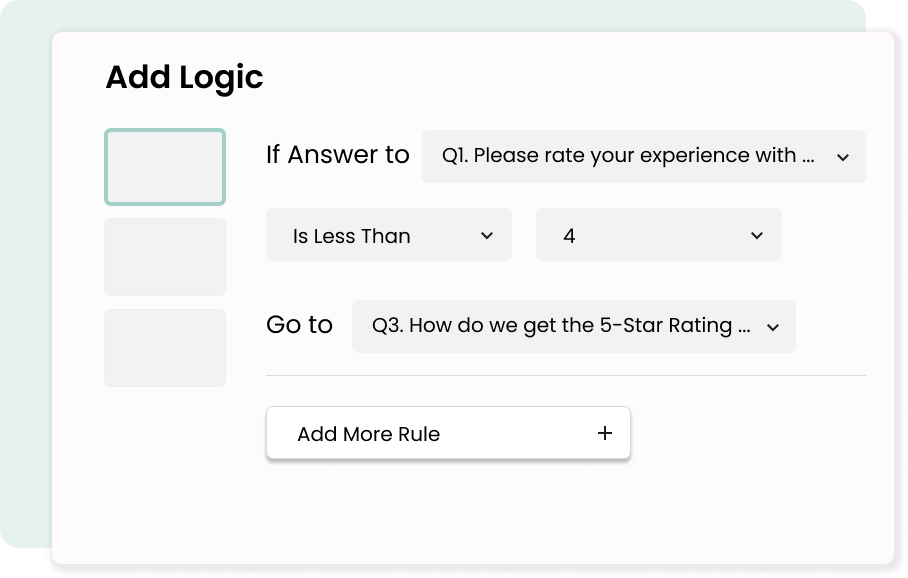 Powerful: Logic Jump, Branching and More
Control the Survey flow using Logic Jump. For Standard Surveys like the Net Promoter Score (NPS) Survey, you can choose to show questions based on whether the user is a Promoter, Detractor, or Passive.
Delightful: Customize with your Brand Theme
Add logo, background color, question and answer color, and button color as per your brand theme. You can add background images and images to your questions with a few clicks.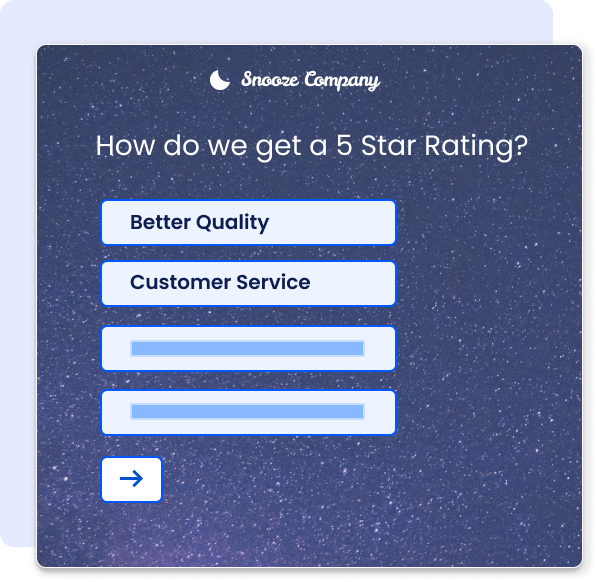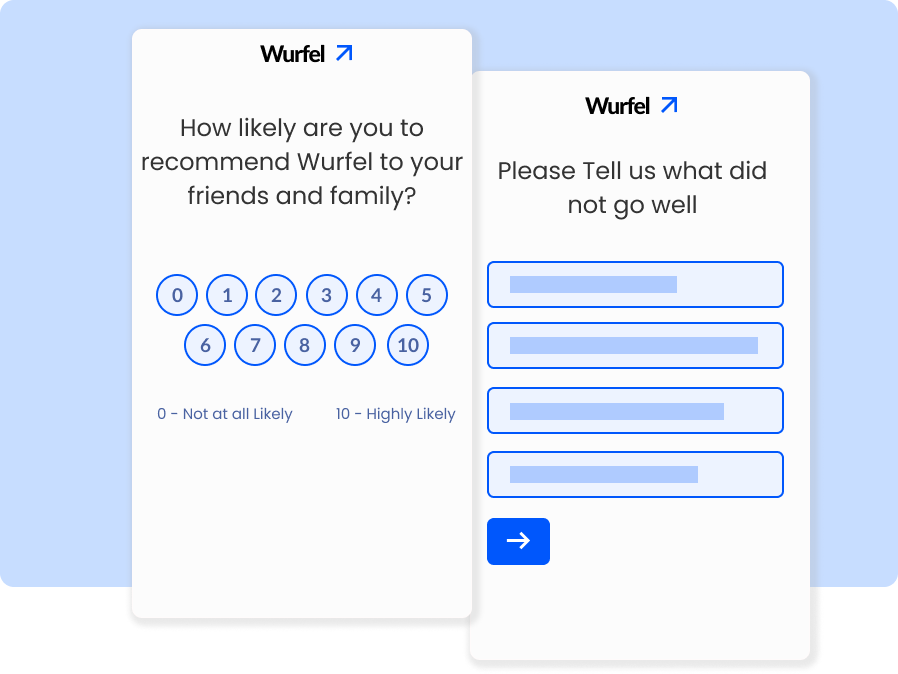 Our Surveys are fully mobile-optimized. Every type of survey question, Survey Start page, and Thank you page work pretty well on mobile as they do on the desktop.
The Pro Features: Recall, Use variables, Custom Thank you pages and More
Supports all the pro Survey features that you need to create a powerful survey. You can recall the answer to a previous question. You can also use a variable that you can pass to the survey. Custom Thank-you pages for various logic flows can help you request social reviews from your satisfied users.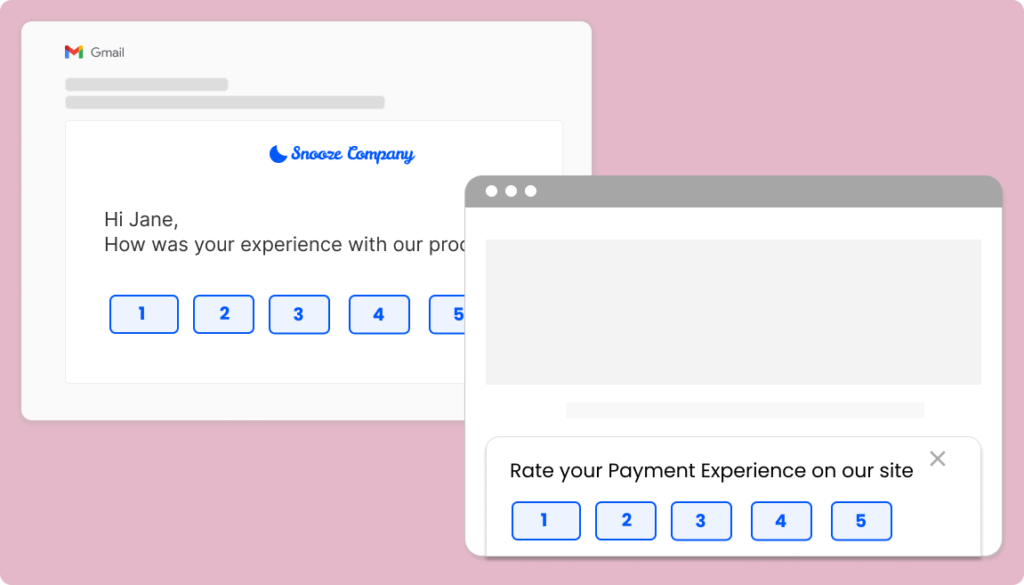 Distribute Survey
Distribute via Email, Embed in website or Send the Survey Link
Once you have created a survey, you can use various modes to distribute your Survey. You can send the Survey embedded in the Email, Embed the Survey in your website, or send the link. The choice is yours.
Email can be triggered from our system or using an integration. You can use your own domain to send the survey as well.
Fully automate your survey – from sending to response analytics 
Top customer success teams rely on Affiniv Survey Software to do their Research
Customer Insights
Customer Insights using Analytics Dashboard
Get actionable insights using our real-time analytics dashboard.
Question-level Analytics using Response Dashboard
Once you get responses, you can easily analyze them using the response dashboard. The summary dashboard can provide all data points to derive key insights from the response data.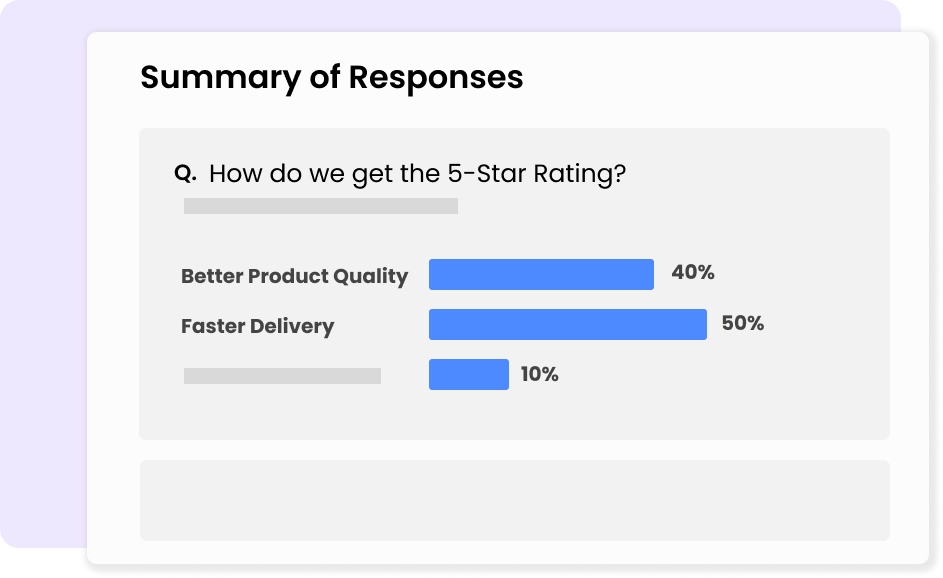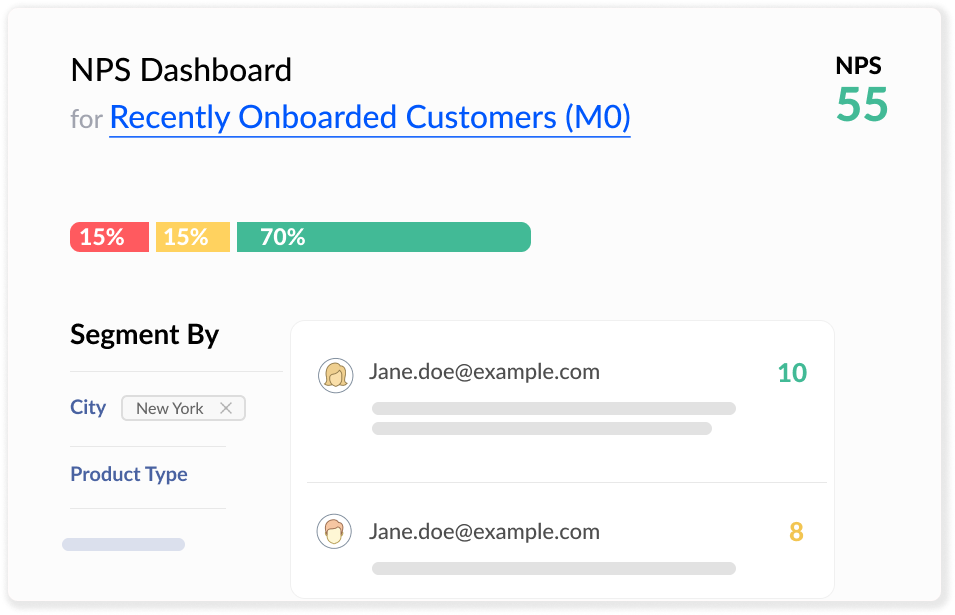 Dashboard for Standard Surveys - NPS, CSAT
For Standard Survey Types such as NPS, and CSAT, the scores are auto-calculated and shown on the dashboard. Also, you can identify individual user responses and segment them using user properties.
Amazing Support, any time, every time
We are friendly people standing by to help you whenever you have a question or need help. If you have dealt with large software vendors, you know how painful it could be to talk to a support rep. Not at Affiniv. We are here to help and we know our product and tech to the core to do it quickly.
Top reasons to choose Affiniv Survey Software
Have Questions? We've Got Answers
What is an Online Survey Maker
An online Survey Maker helps you create surveys to collect responses from your users. The survey can be created for the purpose of market research, product feedback collection, understanding customer experience, and so on. Using a Survey Maker, a survey can be created pretty easily. The survey can then be sent to the users over Email, SMS, etc.
Why use an Online Survey Maker?
Using an online Survey maker can significantly speed up the process of market research or getting customer feedback. The other options are doing a telephone survey, or other offline modes, which can require more resources, be slower, and can be more expensive as well. For more information, check out this post – Types of Surveys.
What are some ways to send surveys to users?
With Affiniv, you can create survey using our Survey Maker. Then you can send the survey embedded in an Email to your users. The Email goes from our account. Your domain can be configured for the same as well. You can also embed the Survey in the website, which can be shown based on your preference. 
Can I create Free Surveys with Affiniv?​
Yes, You can create Free surveys with Affiniv. You can create unlimited number of surveys with the free plan. However if you are going for specialized surveys like NPS, CSAT, there is a limit on that. You can drop an email at [email protected] to know more or extend the limit. For pricing visit our Pricing Page.
How many responses I can get for Free?
With the free plan, you get 100 responses per month. For more, we offer pretty affordable business plan, which significantly increases this limit. For more on pricing, visit our Pricing Page.
How does Affiniv compare with a Survey tool like Typeform?
Affiniv is much easier to learn and operate than a tool like Typeform. Creating and sending out Surveys can be 3 times faster with our simple and intuitive user interface. Also, with Affiniv, you can send the survey over Email directly from the tool or embed the survey in your website. This can save you the hassle of switching between multiple tools.
Trusted by leaders who care about customer experience
With Affiniv, it was a breeze for us to get our key metrics like NPS, CSAT. No coding, nothing complex. And yes, the support was amazing!

Swapnil
Head of Customer Success, Indifi
We integrated Affiniv to collect NPS from our customer base. Nicely integrates with our tech stack. Superb support. Zero hassle unlike some big names

Chinmay
VP, Sales and Operations, TalentRecruit Software
For our customer feedback, we tried to work with many tools, like Google form, Typeform and sending the survey with ActivCampaign. With Affiniv it's one tool and all feedback in one place.

Leo Paul
VP Engineering Capricoast and HomeLane
Good tool to keep track of your user feedback. A number of our feature idea actually came from customer feedbacks. Bonus is the ability to increase reviews on G2!

Rick
Customer Experience Consultant, MailerPlex Software
Get started for with Affiniv today for Free
Free forever for up to 100 responses per month. Send your Survey in Minutes