SurveyMonkey Alternative
SurveyMonkey Alternative: SurveyMonkey vs Affiniv showdown
SurveyMonkey is a survey-only tool. Affiniv is designed to manage your Voice of customer (VoC) program end to end (Ex: NPS, CSAT etc.). Starting with Survey creation, sending over multiple channels (Email, SMS, etc) and analyzing to get actionable insights - all these are supported out of the box without having to integrate multiple tools. This typically results in 40% higher response rate compared to survey-only tools like SurveyMonkey.

Simplicity is at our core. Affiniv doesn't need any learning curve. See why some of the top consumer and SaaS companies of all sizes choose Affiniv.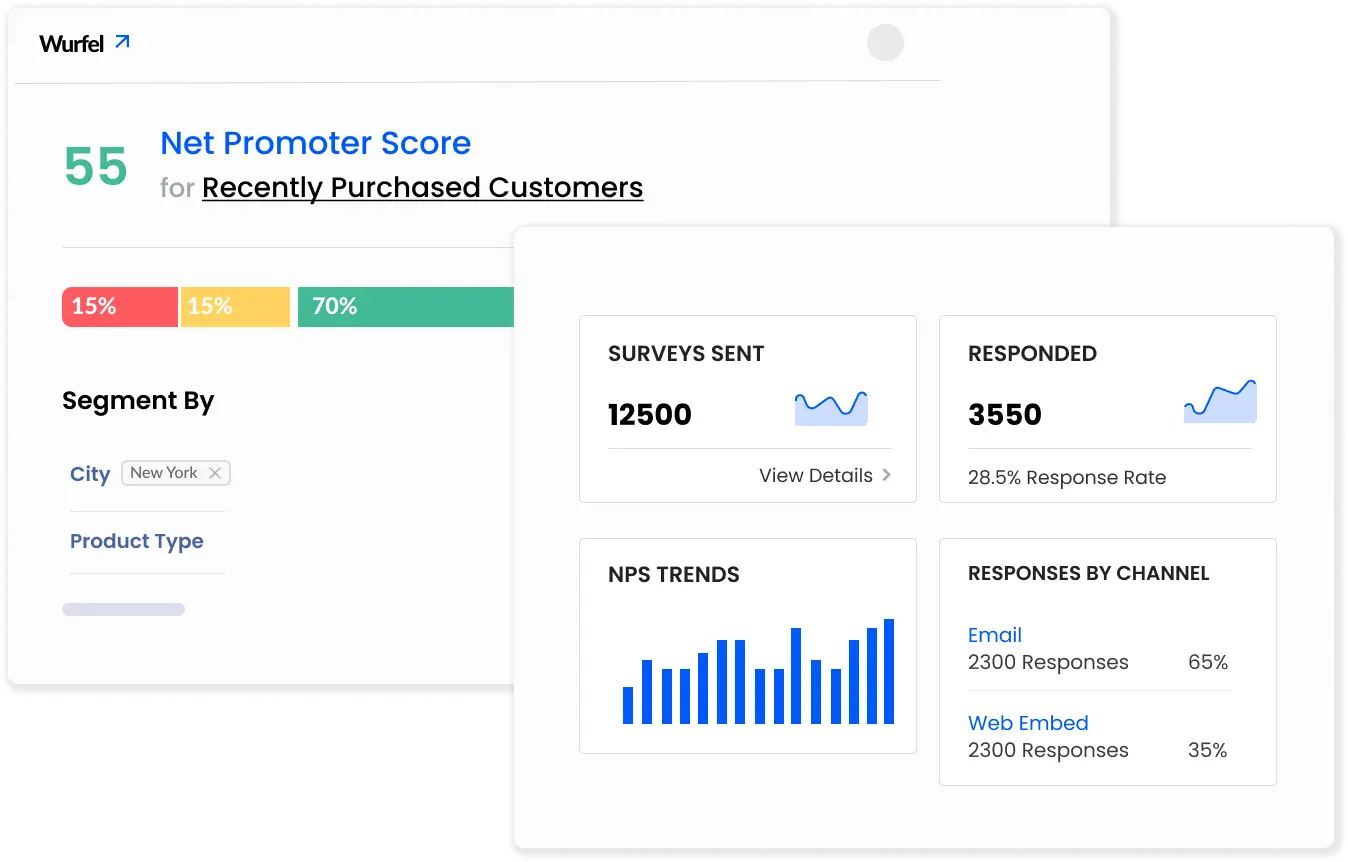 What's the key difference between SurveyMonkey and Affiniv?
Measuring NPS/CSAT with SurveyMonkey – SurveyMoney is a generic survey tool. To run an NPS/CSAT program, you have to create survey with SurveyMonkey, sync the user data with a Marketing automation tool like ActivCampaign, export your data to excel or Power BI to create custom report for segmented analysis and reporting. SurveyMonkey is great for generic use cases like market research. But if you are looking for a tool to run specialised VoC surveys like NPS, CSAT, CES etc, it's definitely not efficient.
Measuring NPS/CSAT with Affiniv – On the other hand, with Affiniv, you can run your customer experience (CX) program way more efficiently. You can create, send and analyze the result – all in the same tool. Affiniv has built-in features such as smart reminders and follow-ups to maximize your responses. With our powerful analytics dashboard, you can find actionables based on user segments from your CRM. Responses can be tagged and the key levers can be determined with minimal effort.
3 steps to get your CX program up and running
Use an affordable customer feedback tool, which is easy to use. From a team that cares.
Easy to setup. Take our 10 min challenge!
Affiniv is designed to be simple and user-friendly. There are no complex settings, no need to refer to manuals. Help is available at every step. You can get your first survey up and running in 10 mins.
1:1 help and dedicated onboarding support
We dedicate a customer success champion for each of our customers. You will get support at every stage – onboarding, survey configuration, distribution setting, and result analysis. We succeed only if it works for you.
Free upto 100 users. Affordable Pricing Plan
You can get started with 100 user plan and explore all features. When you are ready, you can subscribe to the pro or business plan to scale things up.
| | Affiniv | SurveyMonkey |
| --- | --- | --- |
| Powerful Survey Creation | Yes | Yes |
| Send Surveys Over Multiple Channels | Yes - Email, SMS, Web-Embed, WhatsApp, JS Trigger etc. | No |
| Multiple Auto-Reminders to get maximum response rate | Yes | No |
| NPS, CSAT Survey Platform out-of-the box | Collect NPS, CSAT responses out-of-the box over multiple channels. Powerful response tagging and analysis | Can create scale or star questions. But there is no specialised treatment |
| Customer Insights and Follow-ups | Powerful Trend analysis, Response Tagging & Classification, VoC analytics based on customer data from CRM | Analysis available at per question level. |
| Fully automated Feedback collection | Yes | No |
| 1:1 Help and Support | Yes (With dedicated customer success advisor) | No |
| Ease of Use | Simple to use with no little curve. Our team helps with onboarding | Complex; can have steep learning curve |
| Free plan | Yes, Free up to 100 customers per month | No |
| Enterprise Plan | $249/Month. All features including integration, API access etc. | Based on Quote |
Designed to create an amazing customer feedback program, with a very high response rate.
Create Survey and Send to your customers from the Same Tool
Create survey and send to your users without switching tools. Embedding survey directly into the email increases response rate drastically.
Send survey over multiple channels
You can use a mix of channels such as Email, SMS, WhatsApp, Link, API to distribute your survey.
Send multiple reminders to get maximum response
Your customers may be in the in the middle of things when you reach them. With Affiniv, you can set auto-reminders. This has been proven to improve the response rate by 20-50%.
Feature-rich dashboard to analyze and Identify the actionables
Analytics dashboard is a powerful way to analyze results and take away the actionables. You can see the progress of the score over months and segment results based on properties from your CRM. You can also understand the feedback of each customer, tag them and enrich the feedback with additional info.
Ready to start listening to your
customers in 10 minutes?
That's as much time it takes to get going. Dive in and try it out. We are standing by!