Qualtrics and Surveymonkey are the two ubiquitous names in the survey world. A new entree to the survey world will have definitely come across these online survey tools. Theres not a shadow of a doubt there.But the questions arise when you have to choose between these two popular tools. Qualtrics vs Surveymonkey, which one is actually better? And are these two tools worth the hype? Or are there better 
alternatives
 in the market?Lets find you the right answers through a detailed analysis of the tools followed by a proper comparison.
Qualtrics : An Introduction
Qualtrics Survey : IntroductionTouted as an experience management company, Qualtrics offers you features to capture and store data related to customer experience, employee experience, market research, and academic research. The tool offers a plethora of features like SMS, web, social, and app feedback collection capabilities, conversational analytics, and journey analytics, along with many integration options.
Popular features
 Now, lets take a look at the most popular features of the tool.
Advanced Survey Building
 Qualtrics has a dropdown menu called Tools, which comes with a myriad of advanced survey features like auto-number questions, managing reusable choices, sample response generation, etc. along with basic features like survey logic, question types, and more.
XM Discover
 Discover the respondents intent, emotion, and causes behind their opinion with the smartness of conversational analytics to improve the experience and build better relationships.
Predictive iQ
 The main goal of Predictive iQ is to prevent customer churn. This feature makes use of deep learning neural networks to find out customers who are most likely to churn and provides the needed insights to identify the underlying cause to address it.
Surveymonkey: An Introduction
Surveymonkey - An IntroductionSurveymonkey is probably one of the oldest survey tools in the market. It lets you facilitate both online and offline data collection, and is one of the best security encrypted survey makers. It is a flexible tool with various question types, survey templates, and smooth customization abilities.
Popular Features
 Lets take a look at the most popular features of Surveymonkey.
Surveymonkey Genius
 Genius feature by Surveymonkey is built to help you make a close estimation of the success rate of your surveys. This will be indicated by giving scores so that you can optimize it further accordingly.
Pre-built templates
 Surveymonkey has a huge collection of pre-built templates which are customized according to your purposes. Different templates are assigned for the purpose of surveying different respondents like customers, employees, etc.
Question Bank
 Leverage hundreds of questions written by survey scientists. Every question is categorized to help you pick and add them in seconds.
Qualtrics vs Surveymonkey: General Pros and Cons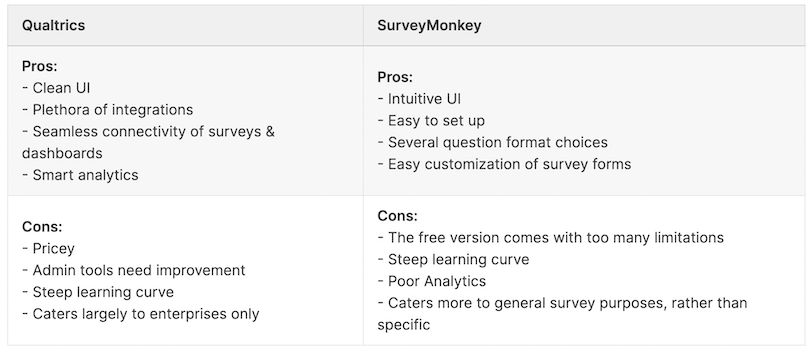 Qualtrics vs Surveymonkey: Feature & Capability Comparison
Here is a comparison of the features and capabilities of Surveymonkey and Qualtrics surveys to help you get a better picture. The following are the aspects of comparison:
1. Questionnaire Design
Qualtrics Qualtrics might have an upper hand here, as it has an advanced set of features when it comes to questionnaire designing. When you make a survey on Qualtrics you are provided with advanced options (mentioned above) to structure them in a way that best suits your needs. Qualtrics follow a block-based design that is supported by logical branching. You can also toggle between different projects smoothly instead of going all the way back to the homepage to open them. Another great benefit of the design is that you can view both the desktop and mobile preview at the same time.
Surveymonkey When it comes to Surveymonkey, functionalities for the questionnaire design are pretty basic. It lets you drag and drop question formats, program skip logic and choose from question bank, etc. But when it comes to previewing, you will have to analyze it separately for desktop and mobile.
The Tasks dashboard where all surveys are listed is quite similar for both SurveyMonkey and Qualtrics.
2. Templates
Qualtrics Qualtrics has 100+ pre-built templates designed for various requirements like employee satisfaction surveys, product research survey, employee onboarding surveys, interview feedback surveys,s and so on. The best part is that even the free account of Qualtrics gives you access to all of them.
Surveymonkey Surveymonkey is incredibly popular for the numerous template options it offers. The tool has more than 240 templates designed for specific requirements like B2B surveys, customer feedback surveys, brand awareness, and more.
3. Integrations
Qualtrics Qualtrics offers around 73 integrations with apps like Twilio, Facebook Reviews, Wyng, Google Reviews, Canvas, Google Connect, Health Connect, Chatterbox, and many more.
Surveymonkey Surveymonkey offers 100+ integrations that are neatly categorized for different functionalities like analytics & reporting, CRM, customer support, digital gifts, education, email, marketing, productivity, social, etc. Some of the integrations are Salesforce, Constant Contact, Freshdesk, Zendesk, Hubspot, Canvas, Akita, and more.
4. Analytics
Qualtrics Qualtrics has impressive analytics capabilities which are specifically designed by keeping enterprises and large-scale research as the main focus. The tool helps you dive deep and break complex data into useful insights. You can filter, categorize, merge, clean and then analyze your response data further. With features like Predictive iQ, you can even identify trends and find out the chances of a customer churn.
Surveymonkey Well, heres something right off the bat, analytics is NOT an area where Surveymonkey shines. Though it does offer visual data charts and audience demographics ( slice and dice data as per demographics, mainly for market research), it is very hard to understand data and draw insightful conclusions.
5. Pricing
Qualtrics Firstly, Qualtrics does not offer a transparent pricing system and secondly, the tool is definitely on the pricier side. You will have to contact their team for a pricing plan, but dont expect it to be anywhere lower than $1500 a year (for limited features that too!). Also, youll have to incur separate charges for each upgrade or additional response.
Surveymonkey Surveymonkey has basically three sets of plans namely; Teams, Individuals, and Enterprises (annual billing)..
The Team plan starts at $25/user/month for 3 users. The Individual plan starts at $16/month for unlimited surveys and 40 responses per survey. The Enterprise plan is a custom plan for your enterprise with the preferred features.
6. Ease of Use
Qualtrics Qualtrics is easy to use once you learn how it works..and that happens only with some good training. Yes, Qualtrics has a steep learning curve and you might have to definitely allot some time just for learning how to use it.
Surveymonkey Surveymonkey has a UI that is pretty easy to use. Theres a drag and drop interface, a collection of survey templates, and a bank of questions that helps you create surveys easily. But that is until you want to create your own set of questions for the survey. Theres a lot of work involved then. The interface has a lot going on and it takes a lot of clicks and drags to complete the simplest of actions!
7. Free Version
Qualtrics The good news is that both Surveymonkey and Qualtrics offer free versions. When it comes to Qualtrics, the free account lets you create 1 active survey with 15 questions for a given period, collect 100 responses, access templates, get basic reports, etc. You will however have no customization abilities and intelligent features like Text iQ.
Surveymonkey Surveymonkeys free plan comes with a lot of limitations and if theres anything that irks their customers it is this. You will not be able to depend on the free plan for long.
The free plan does enable you to create unlimited surveys, but sadly, it wont come in handy. The reason is that you wont be able to add more than 10 questions per survey, and whats even worse is that you can only view 10 responses per survey. And analytics? Nope, you dont get that either.
8. Best Suited for
Qualtrics Qualtricss main focus is on large enterprises only and it caters to them. If you represent a large enterprise, then Qualtrics might be a great option for you. However, if you are an SME, or a growth-stage company or start-up then its best not to venture into any Qualtrics plan.
Surveymonkey Surveymonkey is a tool that is mostly used by small businesses and community organizations. It is a good tool for general research and surveys that do not need in-depth capabilities.
Qualtrics vs SurveyMonkey: A Quick 30-Second Comparison
|   | Qualtrics | SurveyMonkey |
| --- | --- | --- |
| Ease of Use | Not very easy to use | Easy |
| Pricing | Request for a quote | Starts from $25/user/month |
| Best Suited for | Large Enterprises | SMEs and Community Organizations |
| Free Plan | Yes | Yes |
| Enterprise Plan | Custom | Yes |
| 1:1 Help and Support | No | No |
| NPS Survey functionalities | Yes | No (only template available) |
| G2 Review | 4.4/5 | 4.4/5 |
| Capterra Review | 4.8/5 | 4.6/5 |
When Qualtrics or SurveyMonkey Might Not be the Right Choice?
Neither Surveymonkey nor Qualtrics might not be the ideal tool for you, if all of the following define your business:
If you are a growth-stage company or an SME
If you are focused on a special niche as customer experience
Let us tell you why.
Qualtrics largely if not completely focuses on large enterprises. The tool and the plans are curated to cater to them and as a small business, you might get lost in the complexity and scale at which features are offered.
While SurveyMonkey does cater to small businesses, it does not provide in-depth niche-specific functionalities, especially when it comes to analytics. The problem is that the tool is too generic.
So, if you are a growth-stage business that wants dedicated functionalities for an area like customer experience, then you might as well look for a customer feedback tool like Affiniv.
Is there a Better Option than Qualtrics and SurveyMonkey?
Yes, of course, there is - Affiniv. Affiniv is an all-in-one customer feedback tool that is dedicated to help businesses of all sizes, specially growth-stage and SMEs, find the pulse of their customers and improve their experience. It offers you powerful survey options and advanced analytics in NPS, CSAT, and CES surveys to guide you through the right path.
Affiniv - Customer Feedback Tool
Heres why you can Affiniv might be an ideal tool for you compared to Qualtrics and SurveyMonkey.
Absolutely easy to set up and use. UI is very intuitive and you wont even need much technical expertise to set it up and operate, as it is a no-code platform.
You can build NPS surveys, send them over various channels, and set up automated reminders to procure maximum feedback.
Build NPS surveys within minutes with the help of pre-built templates.
Leverage a detailed analytical dashboard, rich with insights. Analyze customer responses, apply filters and examine each segment of the data to drive good business decisions.
Configure auto-followups to instantly communicate with detractors and understand the reason behind their score. You can also set up auto-followups for the promoters and passives as well.
Enable your promoters to rate you on social platforms like Facebook and Google with a single click, to boost your brand image.
You can avail support at every stage. Dedicated CX personnel will be assisting at every phase of your journey (from setting up the surveys to gathering feedback and boosting actionability).
The free plan allows you to survey up to 100 customers.
Finding the right feedback tool ultimately depends on the type of business, the goals and the related requirements. So, be it Surveymonkey or Qualtrics, before you select a tool based on its popularity, do check if they actually cater to your needs and help you grow.