Qualtrics is a renowned tool for customer experience and academic research. Being one of the oldest players in the market, it does have a huge following. However, of late, many strong competitors have entered the arena and many of the customers are making a switch. Now, are you also considering switching to a Qualtrics competitor? Well, you are at the right place.
In this article, we discuss why it might be the right decision to look for a Qualtrics alternative. We analyze the reasons based on public reviews and collate the best set of Qualtrics competitors that could fit your business goals.
Why do Businesses Switch to a Qualtrics Competitor?
Qualtrics is a great tool. There are no second thoughts. However, it might not be the right tool for all kinds of businesses. Here's why.
Definitely, Not User-friendly
If you take a look at customer reviews, you will find that the most number of negative reviews are about the complex learning curve and the difficulty to use it. Using Qualtrics is such a challenging task that most their customers depend on training, which is indeed a waste of time.
Sharing Surveys is a Tedious Task
Sharing surveys demands a lot of processing power and space from a device, which increases the loading time. As a result, the customers can abandon the surveys causing the response rates to dip.
Too Pricey yet Not Transparent
Firstly, Qualtrics pricing is shared only when requested which keeps the audience in the dark. However, upon deeper probing you can find the platform charges $1500 per year for the most basic package.
Large Enterprises are the Main Focus
If you are a growth-stage company or SME, Qualtrics might not be the right tool for you. The plans are built cater to large organizations and it might not be useful for SMEs.
9 Best Qualtrics Competitors & Alternatives to Look for in 2023
Googling some random tools to find your alternative to Qualtrics? Well, hate to break it to you but that's not going to help you find the best replacement. One needs to do in-depth research to find a cost-effective Qualtrics competitor that is right for their business. 
Don't fret. We've done the heavy lifting for you. After conducting extensive research, we have short-listed the best Qualtrics alternatives based on their functionalities, pros, cons, pricing, and free plans.
Affiniv
GetFeedback
Inmoment
Medallia
Retently
Surveysparrow
QuestionPro
NICE Satmetrix
SurveyMonkey
Affiniv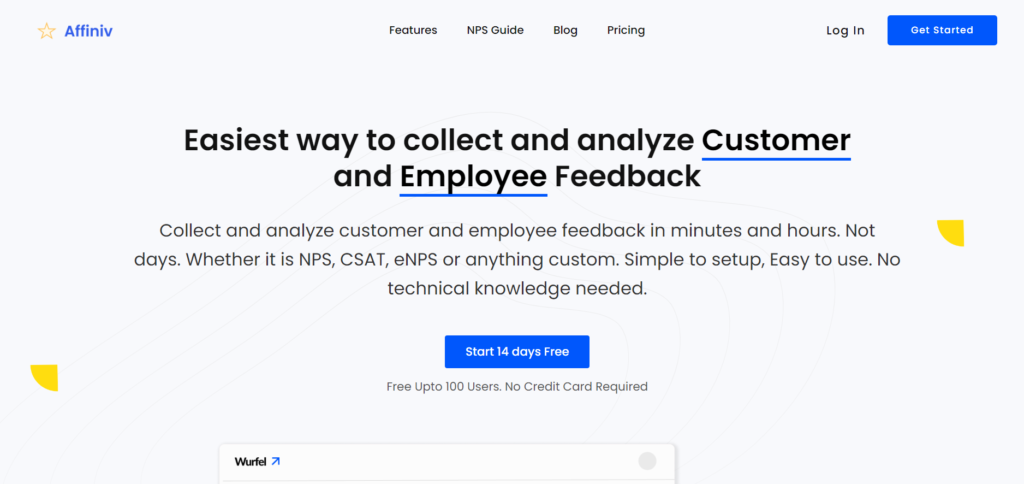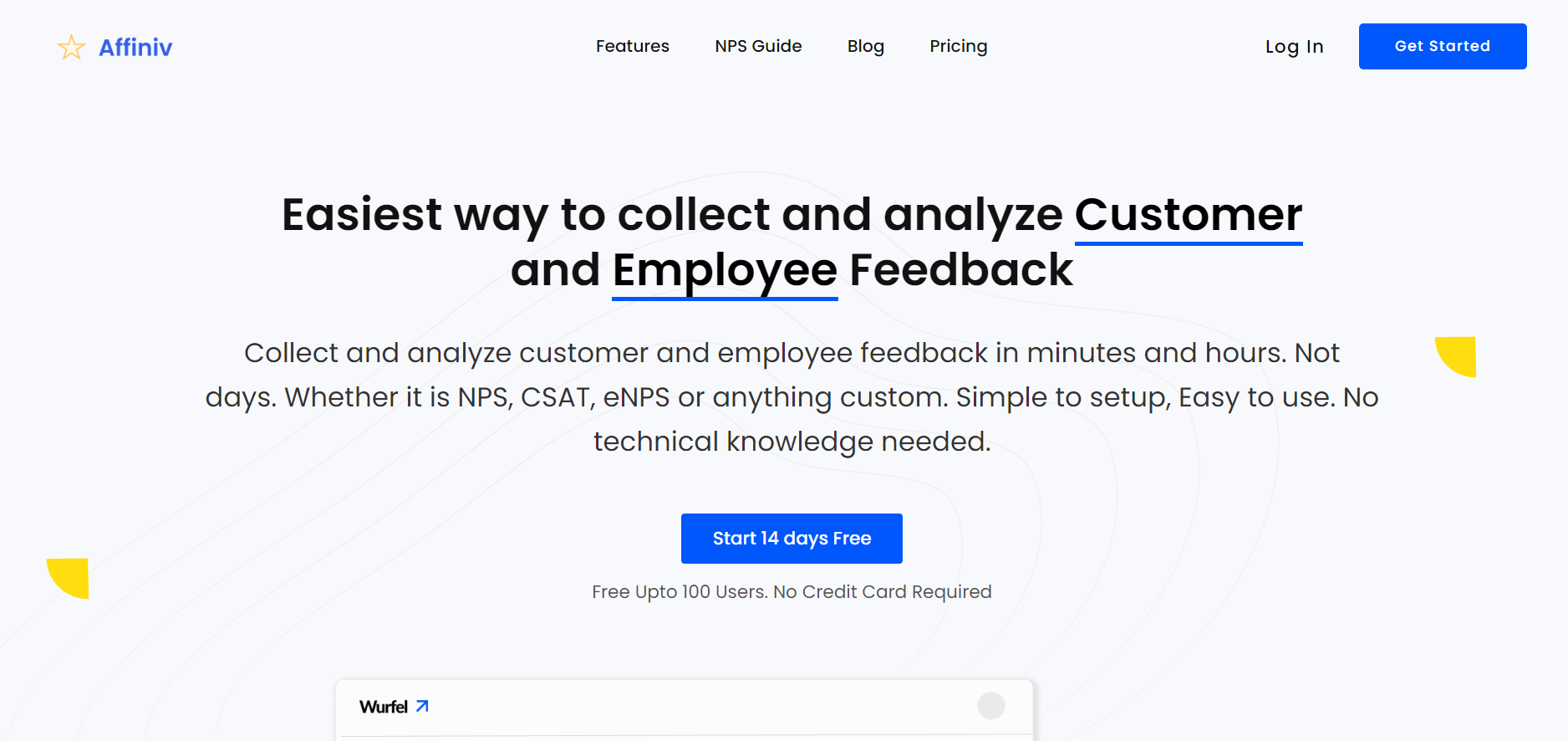 Best for: Businesses Focusing on VOC
If you are looking for an affordably high-end Qualtrics competitor for your B2B SaaS business, then Affiniv is your go-to customer feedback tool. Affiniv, with easy-to-use interface, lets you analyze the voice of your customer through well-built surveys and powerful analytics. From creating appealing surveys and collecting real-time feedback to analyzing them and closing the loop, Affiniv delivers a smooth customer survey workflow through flawless automation. And you don't have to involve the tech guy to build a VOC survey, because this free alternative to Qualtrics is a no-code tool. 
Client-Favorite Features
Survey Editor: Build surveys from scratch or use Affiniv's pre-built templates for easy-set up. You can enrich surveys with various question types, create surveys as per their nature (NPS, CES or CSAT), set up messages for your customers and more.
Analytical Dashboard: Slice and dice data. Find what went wrong, which areas need more focus, what percent of your customers are happy, who are the detractors and more with Affiniv's powerful analytical dashboard.
Multiple Survey Distribution Channels: Share surveys on mediums that are most accessible to your customers, be it email, SMS, Whatsapp, API, or links.
One-click Rating: Let your promoters rate you instantly on social platforms like Facebook, Google etc. with a single click and let the world know how cool your product is!
Pros:
User-friendly UI 

Responsive survey reminders

Timely auto-follow ups

Super easy to set up

Prompt & reliable support
Cons:
Mostly caters to SaaS B2B businesses

Being a young platform, it has to be constantly updated
Pricing [ Annual]
Basic plan starts at $99/month for surveying up to 2000 customers. 

Business plan charges $249/month for surveying up to 5000 customers.

Survey an additional 1000 customers for $50.
Free Version Available: Survey 100 customers/month
GetFeedback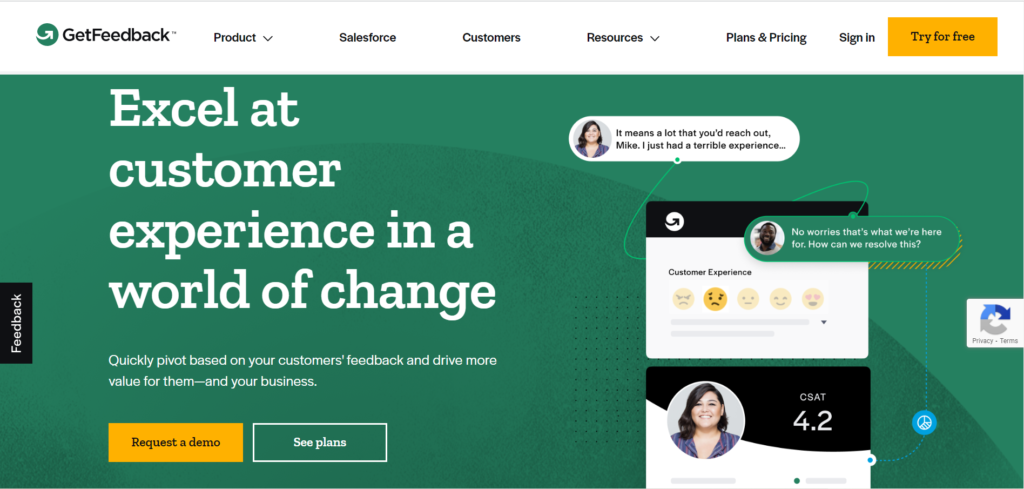 Best for: CX professionals of Large Enterprises
If ease-of-use is the main aspect you are looking for, then GetFeedback is the Qualtrics alternative you can go for. The flexible survey maker is built to help improve customer experience by capturing feedback from all channels and then analyzing the trends. Global names like Crocs, Deckers, Hibbet, Puma, and YETI are some of their renowned clients.
Client-Favorite Features
Multiple Feedback Channels  : You can collect feedback (NPS, CES, or CSAT) from various channels like email, SMS, and website.
Integration with Salesforce: Identify customer trends and derive insights effortlessly by connecting survey data with Salesforce. You can then examine the feedback data via Salesforce Reports and Dashboards, map responses to any standard group or item, and analyze sentiments.
Shareable Insights: Spot trends, understand sentiments and identify the drivers that are affecting your business both in positive and negative ways. Share the insights with your team seamlessly.
Pros:
Highly Customizable

Easy-to-Use 

Wide variety of question formats
Cons
Not an affordable option

Expect glitches while editing questionnaires

Unsatisfactory support
Pricing:
Contact Getfeedback for a Quotation
Free Version : Not Available
InMoment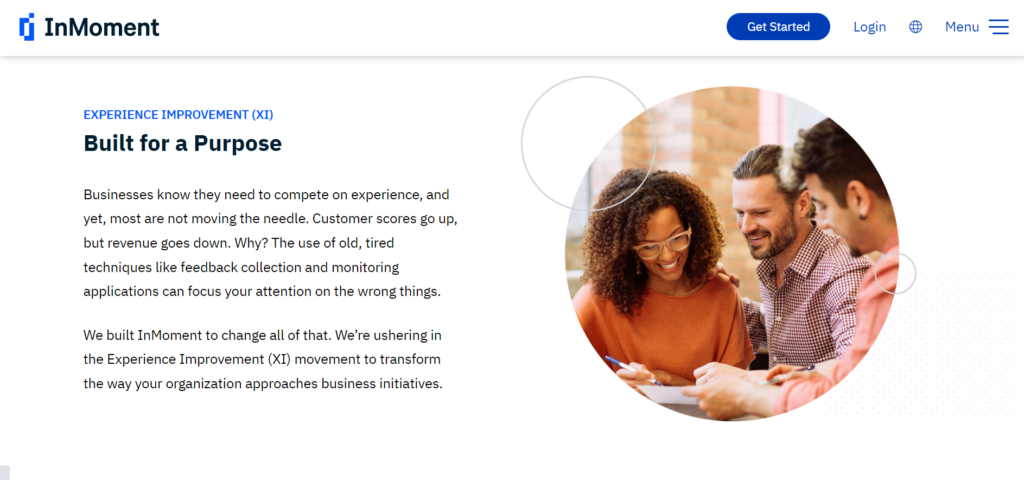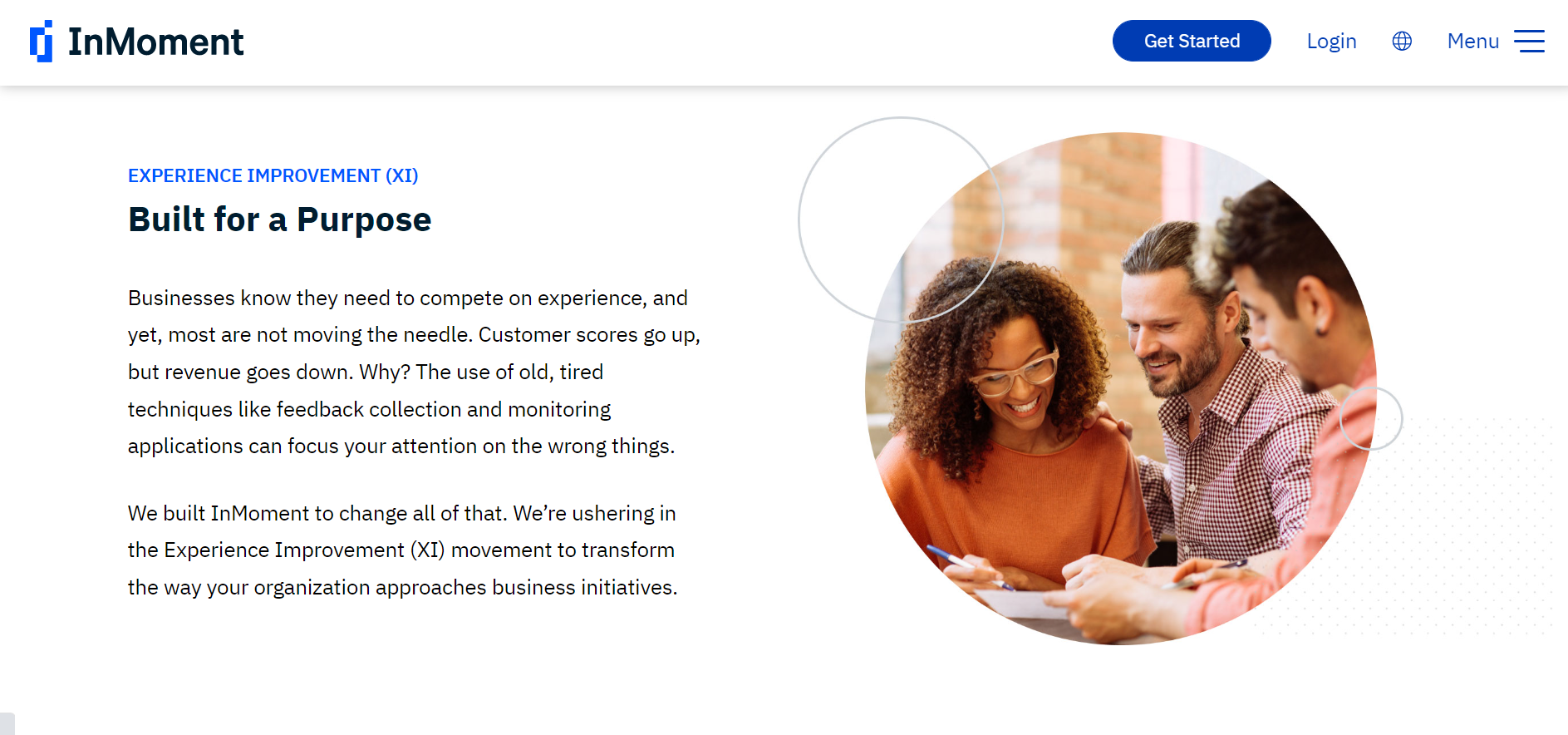 Best for: Businesses focusing on customer loyalty, text analytics & BI
InMoment is an all-inclusive Experience Improvement (XI) platform that helps you build both customer and employee relationships in order for the smooth functioning of your business. Backed by data science, this Qualtrics competitor deals with Customer Experience Cloud, Employee Experience Cloud, Product Experience Cloud and Market Experience Cloud. Thereby, the cloud platform aims to give businesses a comprehensive understanding of drivers that impact their business value.
Client-Favorite Features
Text Analytics: Analyze unstructured feedback in minutes. Create tags, identify categories and understand customer sentiments hidden in the feedback to draw actionable insights.
Data Management: Ingest complex data, cleanse it automatically by removing the unwanted ones and categorize it painlessly. Hence, you can get a quick, precise and comprehensive understanding.
Reporting Studio: Create personalized reports and dashboards with dynamic live data and share them easily with your team.
Pros:
Easy-to-respond surveys

Simple to use

Seamless integration
Cons:
Glitchy surveys

Demands coding occasionally

Slow tool
Pricing: 
Contact InMoment to get a Quote
Free Version: Not Available
Medallia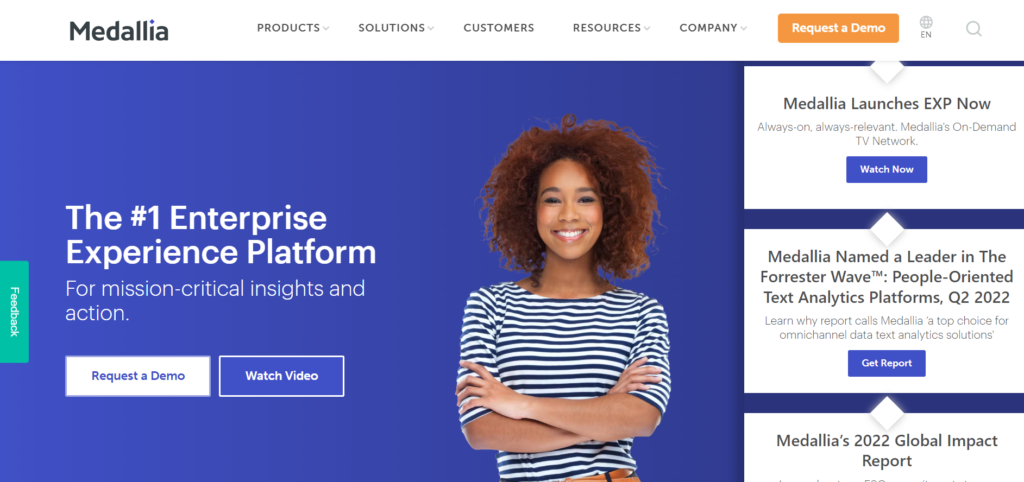 Best for: Large Enterprises focusing on CX
Medallia is yet another Qualtrics competitor that is an experience management software. The tool helps you make crucial decisions through intelligent insights captured from both solicited and unsolicited feedback data. The feedback and experience signals are usually obtained whenever customers are intereacting; be it email, social website or in-app etc. Medallia with its AI & Machine learning capabilities help trace patterns, predict customer behavior and discover issues easily to mak smart business choices.
Client-Favorite Features
Text Analytics: Uncover insights from unstructured text in customer feedback, email etc, and understand customer opinions and the sentiments behind it.
Video Feedback: Learn what your customers have to say through videos. Predict customer NPS, analyze expressions and automatically obtain insights via facial and object recognition technology.
Digital Behavior Analysis: Analyze digital behavior on various channels like website and apps, compare the analysis with feedback history and accordingly personalize customer experience.
Pros:
Easy navigation

Powerful analytics
Cons:
Quite costly

Not very easy to set up

Reports can get overwhelming with more aspects than needed
Pricing:
Only available on request
Free Version: Not Available
Retently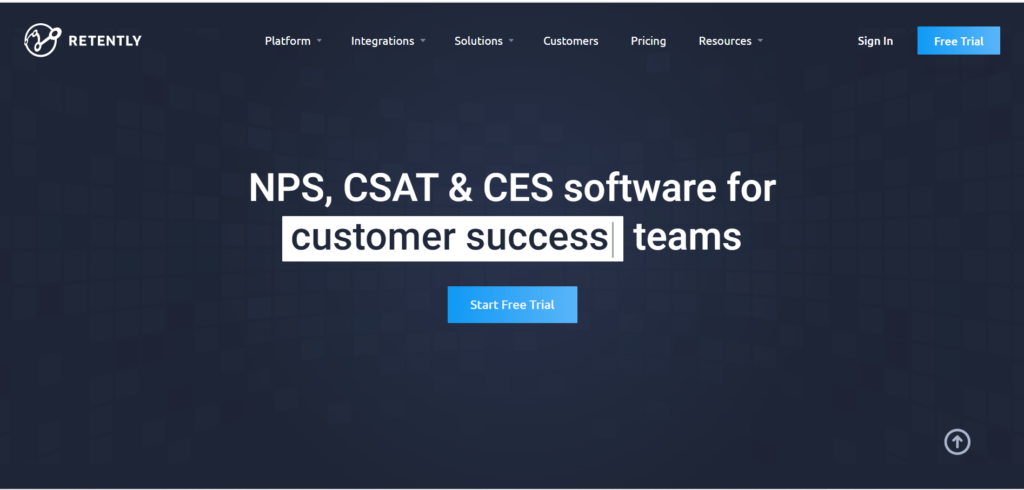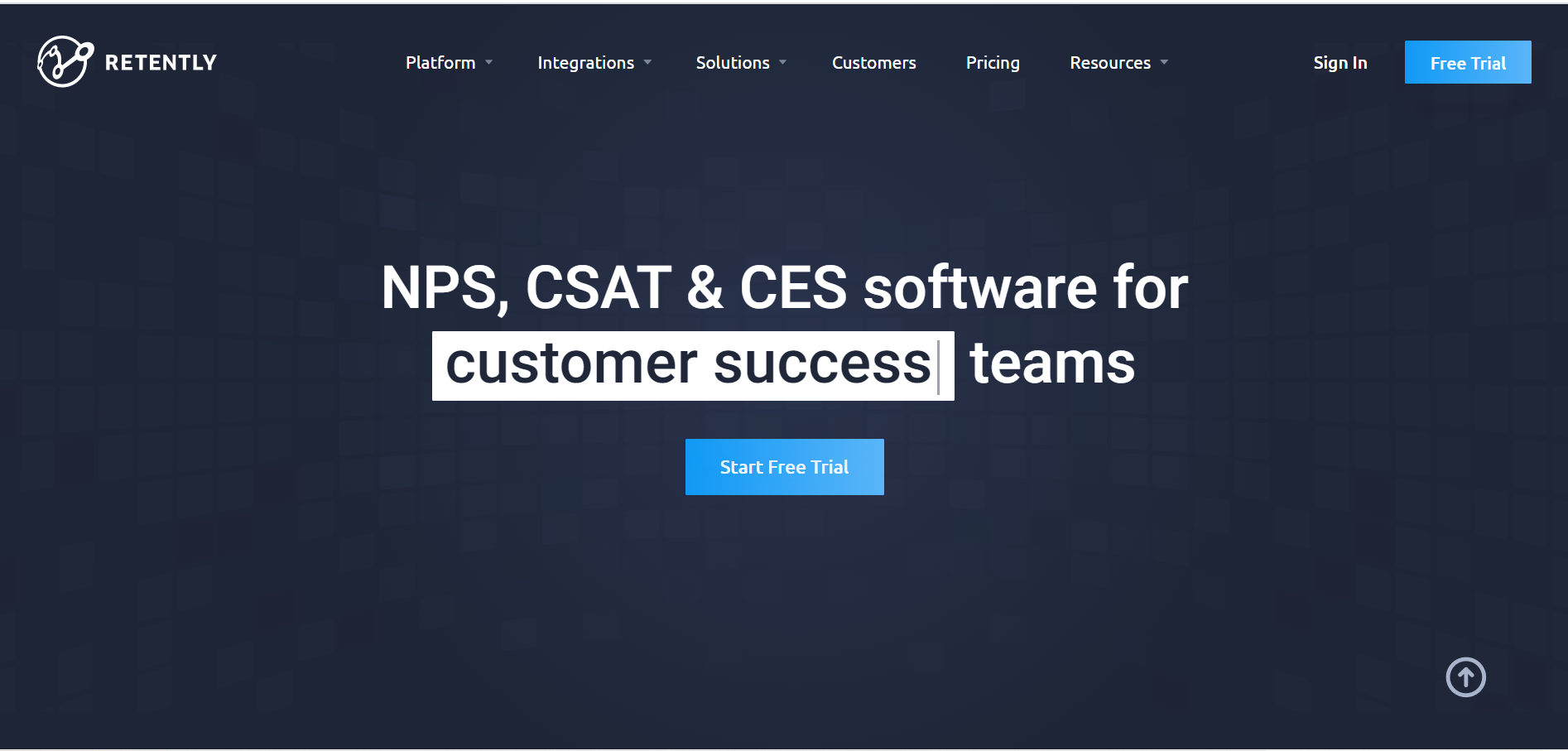 Best for : Businesses focusing on NPS surveys
Retently is one of those Qualtrics competitors that focuses more on customer and product experience. The tool enables businesses to take feedback-based actions to increase customer retention. The tool helps you build all the main surveys (NPS, CES, & CSAT) that are best in identifying customer opinions.
Client-Favorite Features
Cross-channel Feedback: From email and web pop-ups to messengers, reach your customers where they are more likely to be and interact.
Segmentation: Classify your respondents and deliver customized experiences with the help of real-time data.
Benchmarks: Compare and contrast your results with the benchmark standards of your industry and identify where you stand amidst competition.
Pros:
Very easy to use

Great customer support
Cons:
Glitchy reporting feature

Surveys aren't that customizable
Free Version: Not Available
Pricing [Annual]:
The basic plan starts at $25/month

Pro Plan starts at $224 / month

Enterprise plan starts at $599/month
Surveysparrow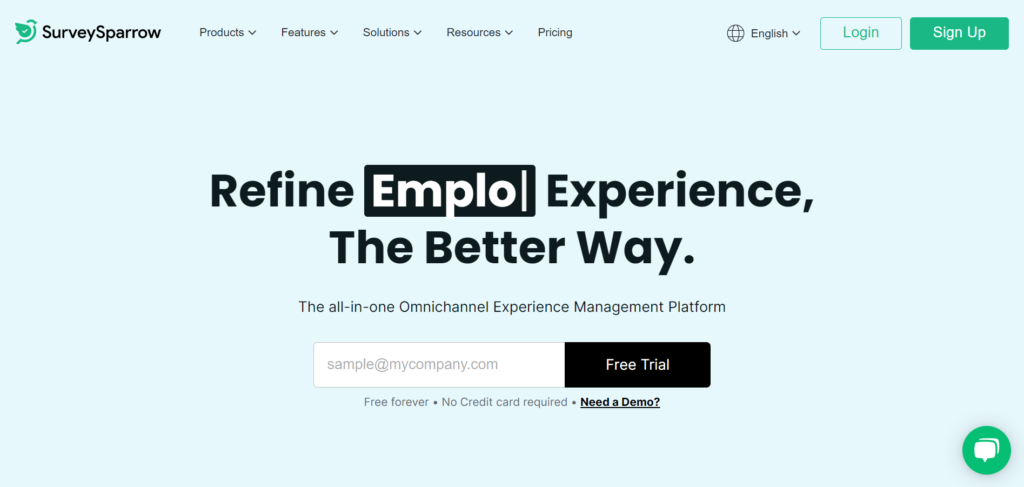 Best for: Businesses focusing on both customer & employee experience
Surveysparrow is yet another great Qualtrics alternative that is an end-to-end omnichannel experience management platform. They help improve customer experience and employee experience by letting you create mobile-first and user-friendly surveys. This Qualtrics competitor is specifically known for the myriad of survey types they offer businesses. Chat-like surveys, 360 feedback surveys, NPS, classic surveys, and offline surveys are the main survey types you can use. The tool also boasts of a conversational user interface.
Client-favorite Features: 
Conversational Forms: Bring the ease and appealing quality of a conversation into your survey forms for boosting customer engagement and survey experience.
White-label surveys: Let your survey reflect your brand identity. Get the ability to brand surveys with your logos and color themes.
Customer Journey Map: Understand your customer's journey with you , analyze it across multiple touchpoints, spot trends , identify consumer behavior and more through visualization.
Pros:
Powerful reporting

Seamless integrations

Great customer support
Cons:
Not very easy to use

Over-dependence on developers

Glitchy drag and drop feature

Not an affordable option for growth-stage businesses
Pricing [Annual billing]: 
The basic plan starts at $19/month

The business plan starts at $99/month.

Contact the team for custom plans
Free Version is Available: 100 responses/month
QuestionPro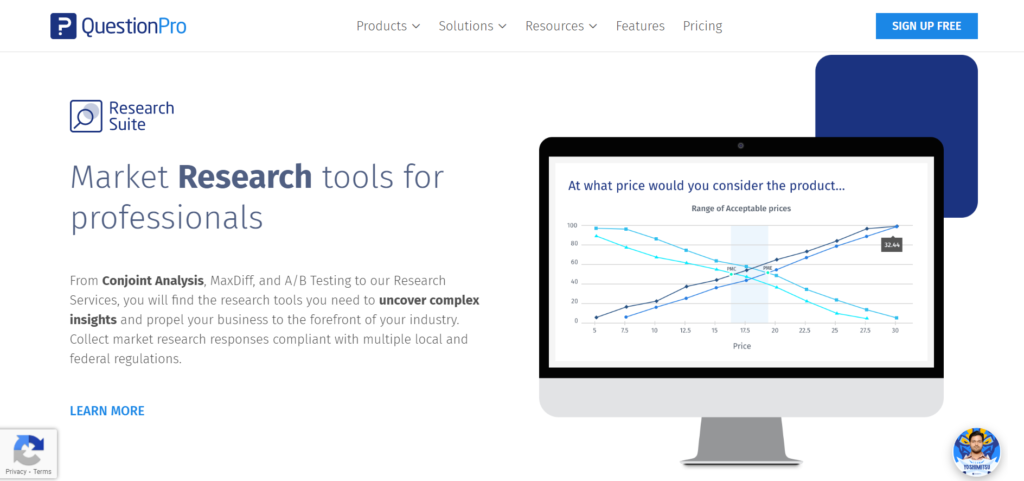 Best for: Businesses looking for sophisticated surveys
QuestionPro is an online survey software that helps you build different kinds of sophisticated surveys according to your business purposes. From survey creation to its distribution and analysis, the intuitive Qualtrics competitor aids in setting up the entire survey workflow. Question Pro is known to offer a variety of analysis options that includes MaxDiff analysis, sentiment analysis, TURF analysis, and heatmap analysis. This free alternative to Qualtrics also lets you create multilingual surveys.
Client-Favorite Features
All-inclusive Dashboard:  Find all the data that you need in real-time on an all-in-one dashboard. Customize it with filters and charts, derive insights and share it to your team for easy collaboration.
Question Types: Choose from over 40 question types and 15+ logic options to create an effective and engaging survey for your customers.
Multilingual Surveys: Build surveys in the language preferred by your customers. Choose from a 100 different languages to create engaging surveys.
Pros:
Seamless data exporting

Responsive support team
Cons:
Complex learning curve

Cluttered analytics

Glitches while opening survey links
Pricing [ Annual]:
The advanced plan starts at $99/month.

The CX plan starts at $2000/month. 

Contact the team for further details.
Free Version Available: Unlimited surveys and responses
NICE Satmetrix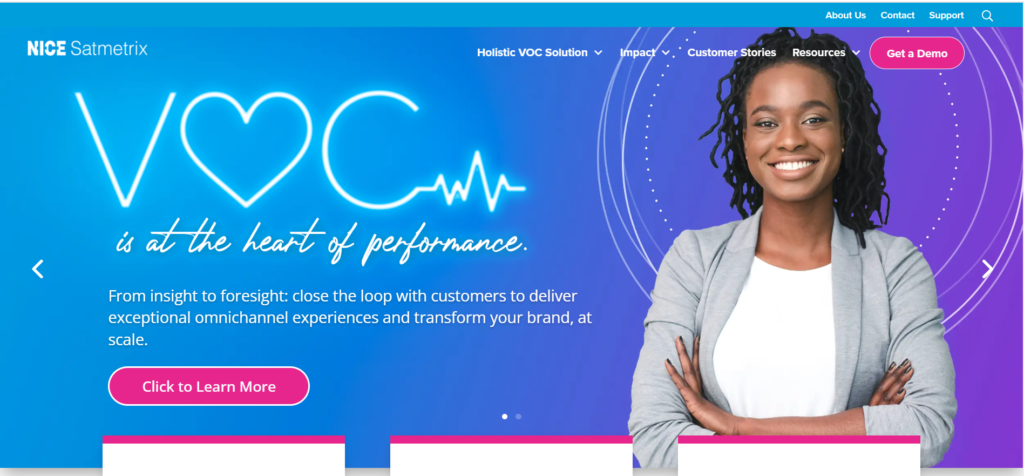 Best for: Businesses looking to manage customer experience
NICE Satmetrix is a solution that helps businesses manage their customer experience programs efficiently. This Qualtrics competitor assists you in collecting feedback, integrating it with collaborative tools, analyzing the data and close the loop. It is specifically built to help manage the entire process pertaining to customer experience management. 
Client-Favorite Features
Multiple feedback sources: Collect feedback from multiple sources like email, SMS, website, in-app, social media channels, and more.
Customer Journey Design: Bring together the inputs across various stages in the customer's journey to observe the spectrum of experiences and spot crucial trends and patterns with the help of AI & analytics.
Pros:
Easy to use

Timely support
Cons:
Limited Customizability

UI is not the prettiest

No option to contact detractors 
Pricing:
 Contact NICE Satmetrix team
Free Version: Not Available
Surveymonkey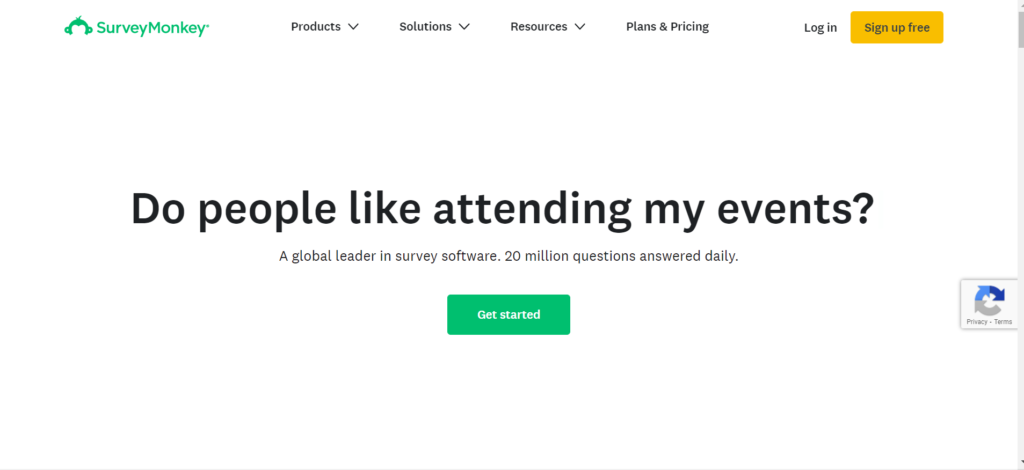 Best for: Generic survey purposes
Surveymonkey surpasses Qualtrics when it comes to user experience. The ubiquitous tool with its responsiveness, user-friendliness, and decent surveys makes it a good Qualtrics competitor fit for all kinds of businesses. Be it academic, or customer experience, Surveymonkey definitely has a survey that befits your requirement. However, the functionality of this free Qualtrics alternative will depend on your requirement. If you are looking to create in-depth surveys to make data-centric decisions, then this might NOT be the tool for you.
Client-Favorite Features
Pre-built templates: Whatever the purpose of your survey, you are bound to find a pre-built template for it. Employee feedback, market research, academic research, or healthcare, you just name it!
Surveymonkey Genuis: This feature helps you find the success rate of your surveys by scoring them based on important aspects.
Pros:
User-friendly UI

Multiple question format options

Easily customizable survey forms
Cons:
Unreliable and limited free version

Steep learning curve

Mundane survey themes

Very basic analytical capabilities
Free Version Available: 10 questions and 10 responses per survey
Pricing [Annual]:
The basic plan starts at $25/user/month.

Team Premier Plan starts at $75/user/month

Contact Surveymonkey team for Enterprise Plan
Winding Up
Hope this article helps you in the quest to find the perfect Qualtrics alternative for your business. However, do keep in mind that the popular choice may not always be the right one for your business. Make sure that the tool matches and fulfills your business goals.